How Online Businesses Can Use Social Media to Influence Their Search Rankings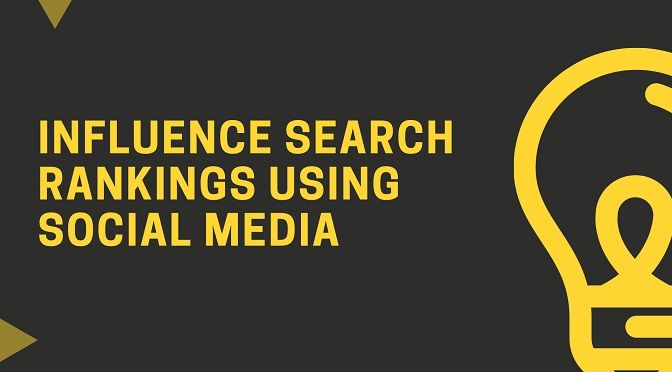 Although a lot of people know that social media is essential in content marketing, not everyone has a clear understanding of how social media can affect one's organic search results.
That's understandable ‒ while social media is a vital ranking factor in search results, search engines like Google don't directly take social media into account in its ranking algorithm. But here's the thing, it does take into consideration specific social signals in ranking websites.
Google and social media: How do they work together
Google assesses social signals rather than social media profiles in ranking. Here are a few essential things search engines are looking at:
How many shares does a content created by a particular brand earns?
How relevant, and useful the content is.
How timely the content is to a particular group of readers.
The primary reason why Google considers these things rather than a mere existence of a social profile is that of its extensive search to provide its readers with timely and high-quality content on the search results.
In other words, a social profile for a brand or individual doesn't directly indicate authority or quality. Instead, its the presence of a highly shared, liked, and talked-about content.
Now we move on to how you can utilize social media to influence your search engine rankings:
Amplifies content reach
Social media helps your site's visibility through content promotion. One of the primary functions of social media is social sharing ‒ it's an excellent way to engage users in various social media platforms.
But if you're regularly producing high-quality content but doesn't reach your target audience, all your hard work comes into waste. That's precisely where social media comes into play. It allows you to promote your material on different news channels and to a fresh audience, giving your brand an added boost.
When you craft a killer content that users tend to stick with, these engagement metrics will send positive signals to search engines.
For you to improve the authority of your site, you need to focus on giving your audience a high-quality experience, and that means delivering high-quality, killer content. Social media is an excellent platform to deliver that kind of content to your target audience.
Encourages great user engagement
Another way wherein social media can boost the SEO of your site is through greater user engagement.
When you utilize social media to promote your content, you have to take note that engagement matters for SEO. It boosts your online reputation, developing vital relationships, and generating leads for your business.
Social sharing leads to links
Social media influences external sites to link your content. That's why you need to focus on developing high-quality content that's authoritative, enticing people to link. These types of pages and material are otherwise known as linkable assets. You can leverage your social media to gain more exposure.
Social media also allows you to build your network and to make outreach for link building more convenient. It's easier to look for link prospecting opportunities and develop vital relationships with people that are active in your industry.
It's also an excellent alternative to a conventional email outreach for link building, letting you connect with more prospects outside of their inboxes.
Forster relationships and partnerships
Social media allows you to focus on being social, building strategic relationships that could lead to potential partnerships. While it's becoming more and more difficult to reach your target audience organically because social media had been increasingly dense these days, there's one thing that social media does better than other traditional marketing channels, and that's by fostering the right relationships.
Drive more traffic to your website
Posting valuable, and high-quality content on social media is an excellent way to drive more traffic to your site. When you increase your site traffic coming from your site's social pages, you're also boosting your organic search rankings. As a result, this would lead to boost your positions in positions in SERP.
Creating the right type of content makes a significant difference in your overall marketing strategy. If your content gets crawled upon by search engine spiders and gets indexed, then things get better.
So, if your blog post gets a lot of attention on Facebook and Twitter, it will likely end up getting indexed at a more rapid pace.
It allows search engine spiders to find content quickly because of the social factor. For instance, a particular blog post of yours gets viral on social media; then the ripples can be felt on the search engine pages.
Improves brand awareness
Do you know that social media can also increase brand awareness? It's an excellent tool because it gives you direct access to your audience. Posting valuable content, responding to their queries and concerns, and participating in community conversations, all help build brand awareness.
Moreover, paid ads and sponsored posts is an excellent opportunity to reach out to an even more extensive, and targeted audience. A best practice to follow is posting a few times each day, conversing and engaging with your audience regularly.
When you increase your reputation on social media, this will lead to increased engagement. As a result, you will boost your online brand's presence.
To wrap it up
It's true ‒ social media might not be a direct ranking factor for your website, but if you fail to utilize it accordingly, you're making a huge mistake. Developing successful online marketing largely depend on the strategy you use. You need to appropriately prioritize all your opportunities.
So when two marketing channels are closely related together such as social media and SEO, you need to account how one can directly impact the other.
Social media can be an excellent platform to promote both your brand and content, earning your backlinks along the way, and improving your overall SEO endeavours. With these tips into consideration, it's more convenient to manage your social media strategy and to improve your SEO along the way.
Author Bio:
Kevin Urrutia is the founder of Voy Media, a Facebook Marketing Agency based in New York. Voy Media believes in the power of Facebook advertising in helping businesses to boost their sales and improve their conversions. Voy Media aids businesses to push the right message to the right audience in order to deliver the right outcomes.