App Development
Top 5 Cross Platform Mobile Development Frameworks in 2022
Mobile applications are very important for almost any business to survive because they help your business grow in a lot of ways. Apps will make your audience very close to your business and your services, and of course, the more you are close to your clients the more profit you will make.
Over 6.3 billion people across the world are using a smartphone in 2022, which makes the mobile app development among the most popular and in-demand industries.
Therefore, in this blog post we will take a look at the top 5 cross-platform mobile app development frameworks in 2022. We will explain in detail the best frameworks that you should to build your next mobile application and why you should use them?
Cross-platform mobile app development frameworks are really in-demand, especially in the last few years. their job is to help developers build great mobile applications in a short amount of time and with the highest quality possible. Using this kind of framework will save you time and money which are the most important factors for the success of your business.
Types of mobile development tools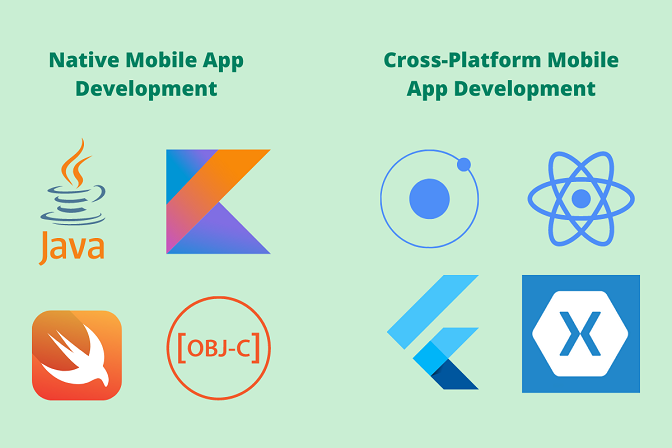 Actually, there are two main types of mobile app development tools that we can use to build high-quality applications. The first one is a native mobile app development and the second is cross-platform mobile app development. They both have the same objective which is building high-quality mobile applications, but they also have some differences.
Let's define each one of them separately in order to understand the difference between them.
Native mobile app development
Native mobile app development means simply the development of a mobile application exclusively for a single platform such as Android, IOS, or windows. The tools and programming languages used in native mobile app development are specific for a single platform, which is a very powerful advantage.
You can for instance use Java and Kotlin to build native android mobile applications or Swift and Objective-c to build native IOS mobile applications.
The best and the most interesting thing about native mobile applications is the exceptional user experience they deliver because they are very performant and specific for a single platform.
Using native mobile app development technologies helps you as a programmer to achieve an unlimited number of functionalities using all the APIs that the platform provide that you're working on.
The problem that every company faces when it comes to developing a native mobile application is the cost. Native mobile apps will absolutely cost you a lot of money especially if you need both versions Android and IOS. You will need to hire two teams working on different platforms which will cost a lot.
Cross-platform mobile app development
Cross-platform mobile application development refers to the process of the development of a mobile application for multiple platforms (Android, IOS, Windows, Web) while writing a single code base. This way of developing mobile applications will save you time and money. Therefore startups prefer cross-platform mobile apps over native ones.
The biggest advantage of cross-platform mobile app development is saving time and money because you will only hire a single team to develop your mobile app that you can deploy in almost all the platforms (Android, IOS, Web, Desktop…).
The cross-platform application can be a little bit slower compared to a native application which is actually normal because you build a single code base for many platforms.
Native and cross-platform mobile app development are two different ways to build high quality mobile applications. You can take one of them based on your project's needs. However, if you want to know more about the difference between both of them and which one is the best for you check out this article.
What are the top 5 cross platform mobile development frameworks in 2022
Cross-platform mobile development as we described earlier in this post means the development of mobile application for multiple platforms while writing a single code base which seems very interesting because it saves a lot of time and money.
This leads us to a very important question which is what are the best cross-platform mobile development technologies ? and how to use them? Here is the list of the best cross-platform mobile application development frameworks in 2022.
Ionic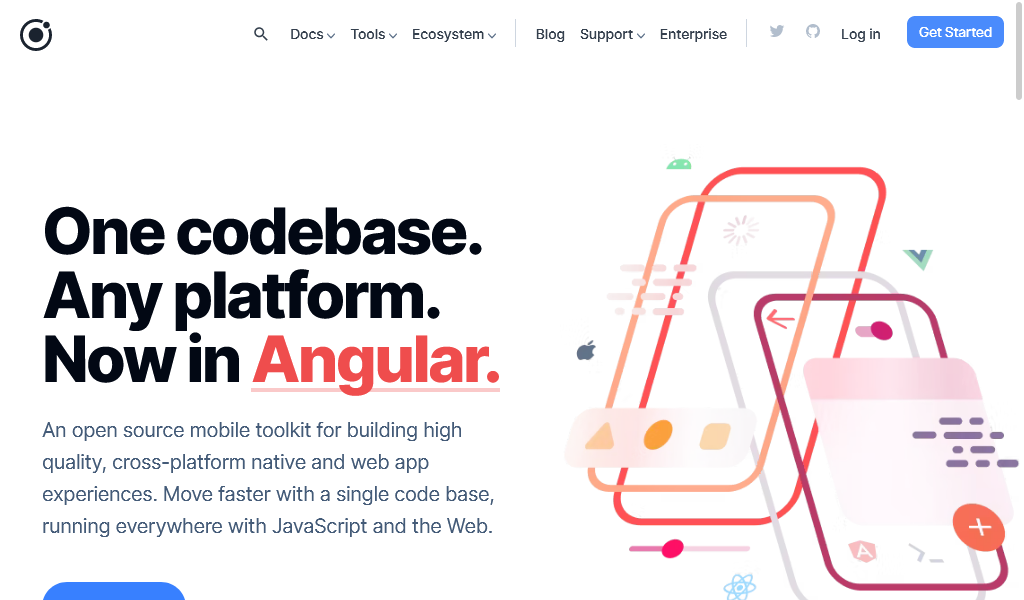 Website: https://ionicframework.com/
Ionic is one of the most used and the most popular cross-platform development frameworks which is used to build performant and highly interactive web and mobile applications. It uses capacitor and Cordova to build Android and IOS mobile apps.
This powerful framework is actually an open-source mobile toolkit that provides high quality built-in UI components to develop professional mobile applications. It uses web technologies such as HTML5, CSS3 and JavaScript to build great mobile apps with a fantastic user experience.
Mobile and web developers love Ionic because it gives the possibility to use web technologies. Additionally, it provides some amazing built-in UI components.
According to the official website of ionic, 16% of mobile apps in Play Store are using Ionic as their main framework, and 10% of IOS mobile applications in Apple store are mainly using the Ionic framework. This is statistics are very enough to categorize Ionic as one of the most powerful technologies in the mobile industry.
If you are interested to learn more about Ionic. This article will explain step by step How to read data from an API using Ionic 6.
React Native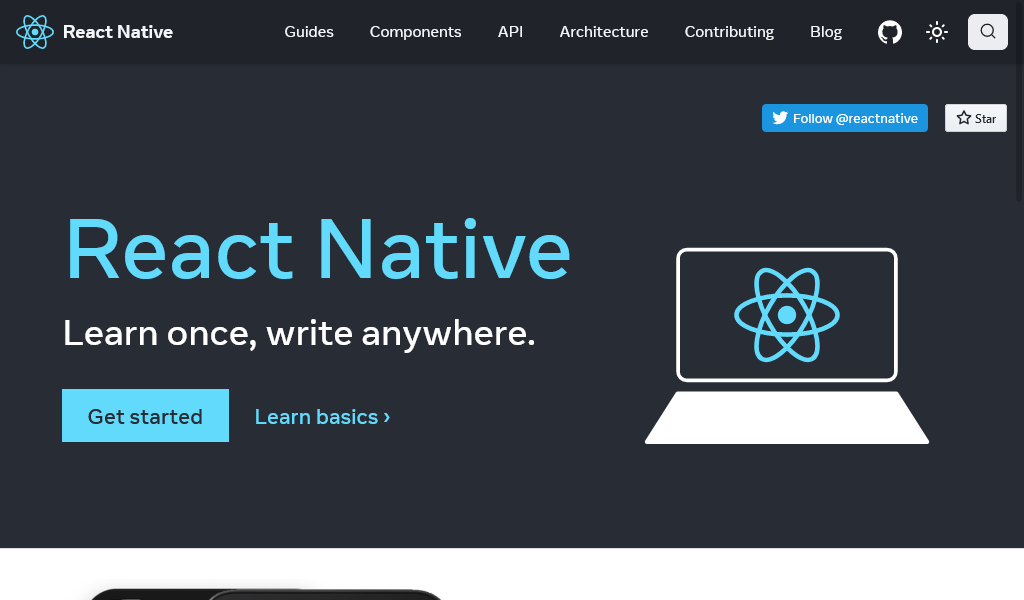 Website: https://reactnative.dev/
React Native is a very powerful cross-platform mobile application development framework built by Facebook in 2015. It is actually based on React JS framework which is a powerful JavaScript framework for web app development.
This open-source framework enables JavaScript developers build high quality Android and IOS applications which is amazing especially for startups and companies just starting their businesses. They won't need to hire web and mobile developer. They may need only one JavaScript developer who will develop web and mobile apps.
The open source framework has also a big amount of mobile applications in the market which makes it among the best cross-platform mobile apps to use in 2022. Over 14.5% of the top 500 apps in the US are built using React Native.
Flutter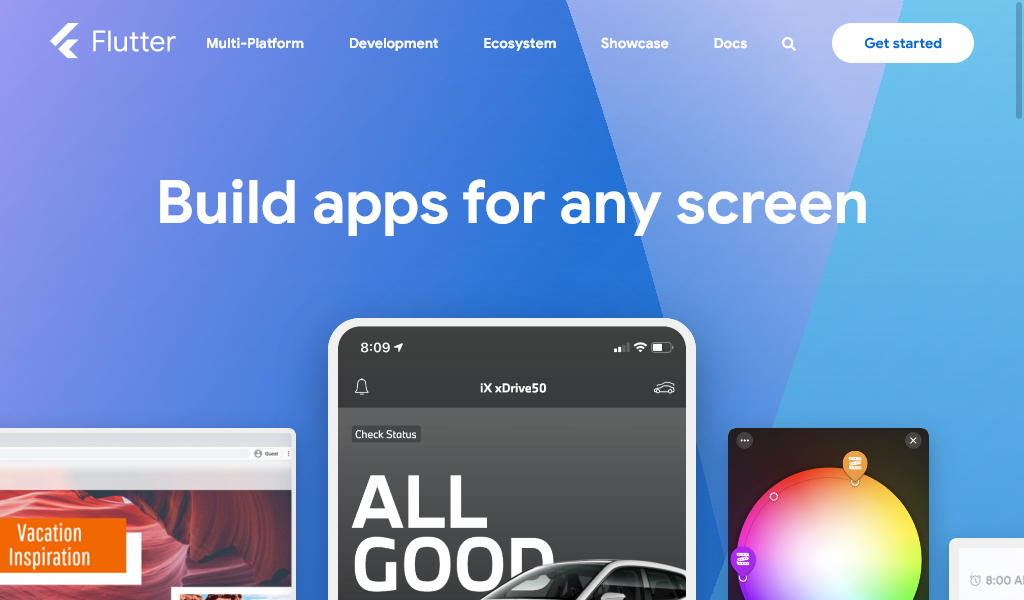 Website: https://flutter.dev/
As we all know, Google is one of the best companies in the planet that changed the history of the internet, they provide the best products and services in the world. Flutter is one of Google's products that was built in 2015. This amazing framework helps developers build web, mobile and desktop applications with a single code base.
Flutter is an open-source mobile application development framework that provides very powerful animations API, Widget system support, highly flexible user interface and very powerful user experience.
What makes flutter very powerful is actually the array of widgets it provides which is highly customizable and look and feel very unique.
Examples of some mobile applications that was developed using Flutter:
Google Ads
KlasterMe
Reflectly
Hamilton
In March 2021, there were over 150,000 mobile applications using flutter in Play store and over 400,000 mobile apps in Apple store which is really amazing especially if look at the date of creation of flutter which is 2015.
Xamarin 
Website: https://dotnet.microsoft.com/en-us/apps/xamarin
Xamarin is a great cross-platform mobile app development that was developed by Microsoft back in 2013 and it is absolutely open-source. This technology comes with a lot of cool features and tools that helps build high quality Android and IOS mobile applications.
This technology is a .Net based framework that save developers and companies a tons of money and time which will generate multiple mobile apps for multiple platforms. C# is a very powerful language and it is the programming language used in Xamarin framework.
Examples of some mobile applications that was developed using Xamarin:
Just Giving: Online Fundraising Platform
Storyo: Storytelling Video Maker App
The World Bank: Survey Conducting App
FreshDirect: Online Food & Grocery
And the list of mobile apps developed in Xamarin is very long.
Apache Cordova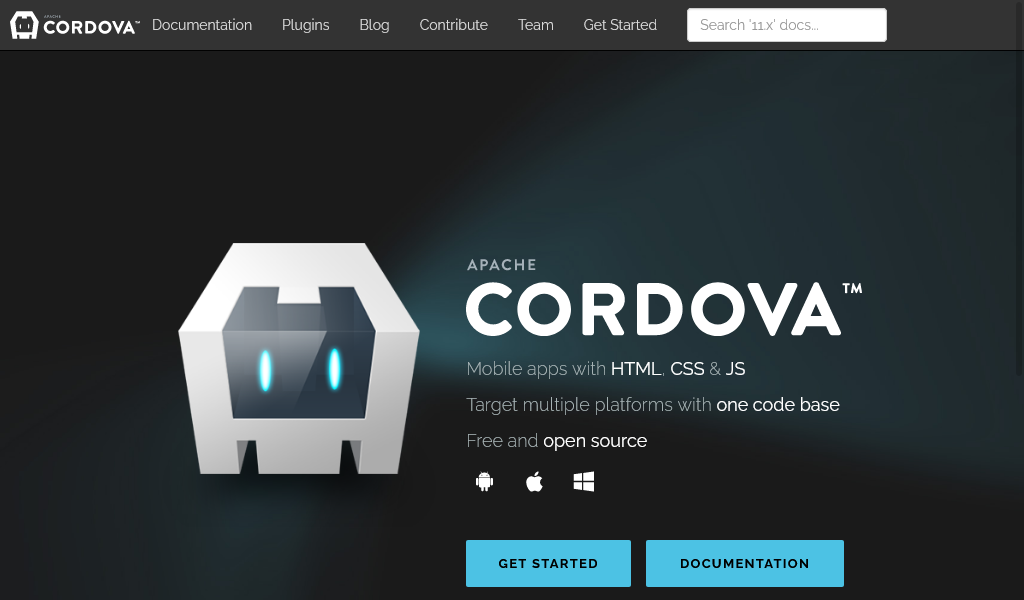 Website: https://cordova.apache.org/
Apache Cordova is quite similar to Ionic du to the use of web development technologies such as HTML5, CSS3 and JavaScript. It is actually a very powerful friendly cross-platform mobile app development framework.
The best part about Apache Cordova is that it gives the ability to access some particular hardware components in the mobile such as Camera, Microphone, Ram… It has also the ability to generate an application for multiple platforms based on a single code base which is really amazing.
This technology has a great community of developers that can help you if you face any kind of problem while developing mobile applications using Apache Cordova.
Conclusion
In this article we tried to list down the top 5 cross-platform mobile application development frameworks based on the market statistics and experts' choices. These technologies are currently and will continue to be the best mobile app development frameworks.
From a single code base, you can generate mobile applications for multiple different platforms, this is really powerful and unique. That is why cross-platform mobile app development technologies had a very big increase in the use especially in the last few years.
I hope you enjoyed this blog post and you got what you are looking for. Thank you for reading.
Best Cross-Platform Framework for Development of Mobile Application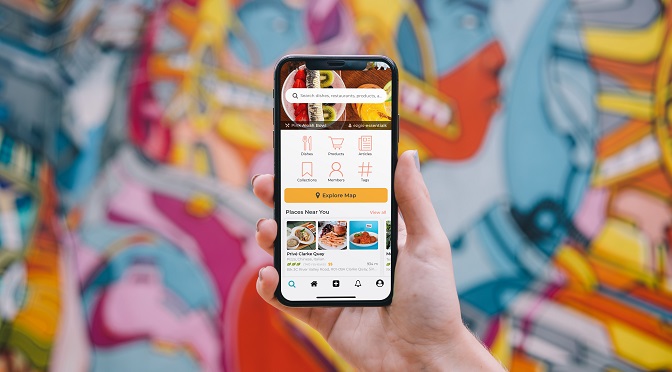 The mobile app sector, with its large customer base, is undeniably changing the traditional business process.
In this blog, we will discuss one of the most essential parts of the mobile app development procedure: picking the appropriate mobile app development framework.
There are lists of mobile app development frameworks that developers use; all of these frameworks provide similar functions but are also conflicting.
Which framework to choose is also determined by the scope of any mobile app's capabilities.
So, let's take a look at which frameworks are in demand or trend among developers as well as clients or businesses wanting to create mobile applications.
Top 5 Cross-platform Frameworks:
React Native
Flutter
Swiftic
Ionic
Adobe Mobile Gap
React Native
Website: https://reactnative.dev/
React Native, one of the most popular mobile app development frameworks, was launched by the well-known corporation Facebook to build powerful mobile apps.
The programming language it uses, JavaScript, is what has made this framework popular among developers.
The main reason it is being used by many developers is that React Native allows for a unified codebase to be used across different platforms and operating systems.
The flux architecture underpins React Native, ensuring unidirectional data flow. To communicate with the native modules, it also needs the usage of a bridge.
Key benefits of React Native
Unified codebase.
Cost-effective.
Installation is simple.
Third-party libraries are supported.
Flutter
Website: https://flutter.dev/
Flutter is an open-source app development platform for creating native apps which were established by Google and are now controlled by the ECMA standard.
This framework stands out from the crowd due to its use of the Dart programming language.
Flutter's unique selling point is its extensive set of in-built components that include nearly all of the technologies necessary for effective mobile app development.
With features like hot-reload and the use of a small codebase, this framework speeds up the entire development process.
Flutter has a layered architecture and is built on the Dart framework. There are a total of three layers and all of these levels has their functions.
C++ engine
Embedder
Dart framework
Key benefits of Flutter
Simple Interface.
Hot-Reload.
Unified Codebase.
Effective debugging.
Swiftic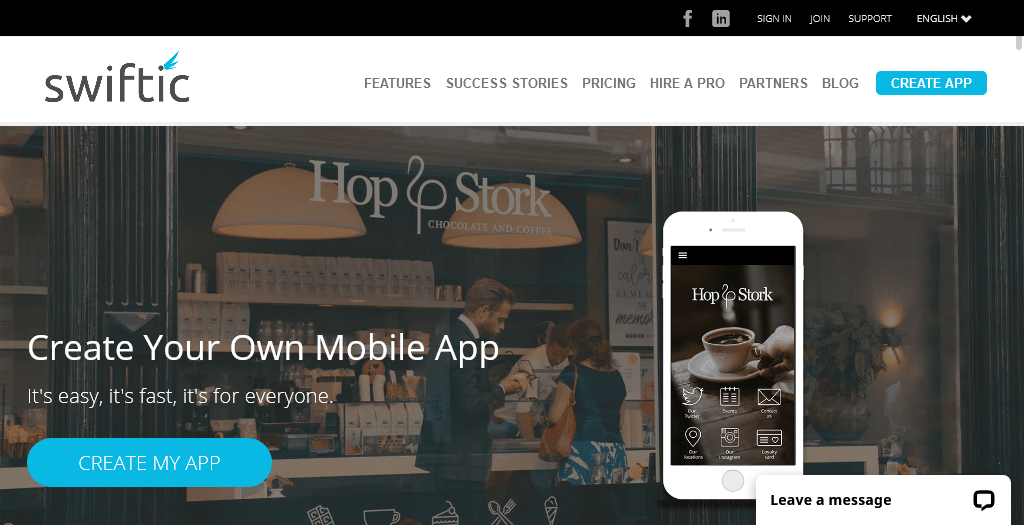 Website: https://www.swiftic.com/
Swiftic, one of the most user-friendly mobile app development frameworks, allowing you to design your app.
It is a (DIY) do-it-yourself app creator that requires no or very little coding. When using this framework, developers do not need to get too deep into code.
It also has ready-made components and features, and its user-friendly interface makes it ideal for any developer.
Key benefits of Swiftic
Adaptable payment plan.
Simple to use.
Assist with app publishing.
Simple coding.
Ionic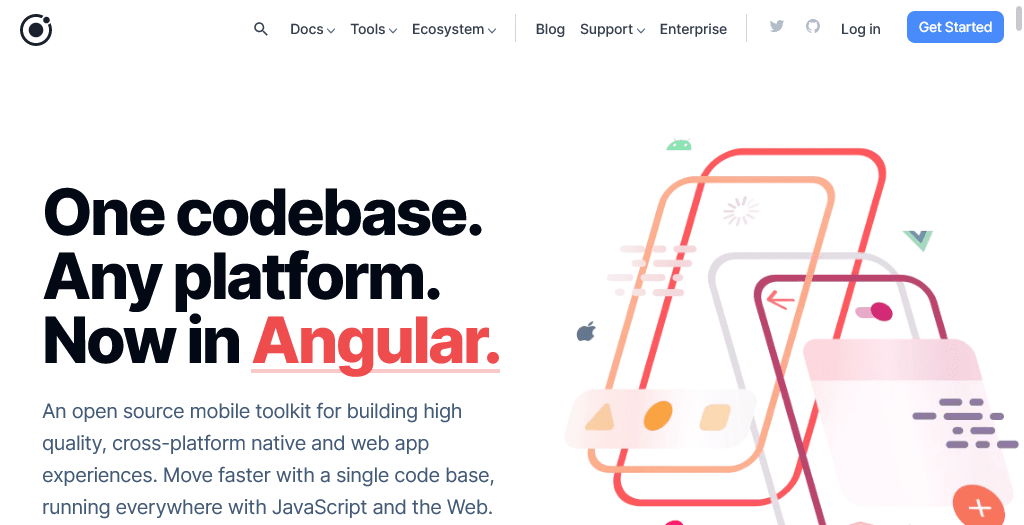 Website: https://ionicframework.com/
Ionic, is an open-source, cross-platform mobile app development framework created by Drifty Co's -Max Lynch, Adam Bradley, and Ben Sperry.
It includes pre-designed UI components that are meant to look well on a variety of mobile devices.
One of Ionic's finest benefits is that it provides developer tools for developing, testing, and deploying mobile apps.
All the developers who are familiar with HTML and JavaScript will feel it is easier to use Ionic.
Key benefits of Ionic
Quality User Interface.
Easy Integrations.
Unified codebase.
Rapid app development.
Adobe Mobile Gap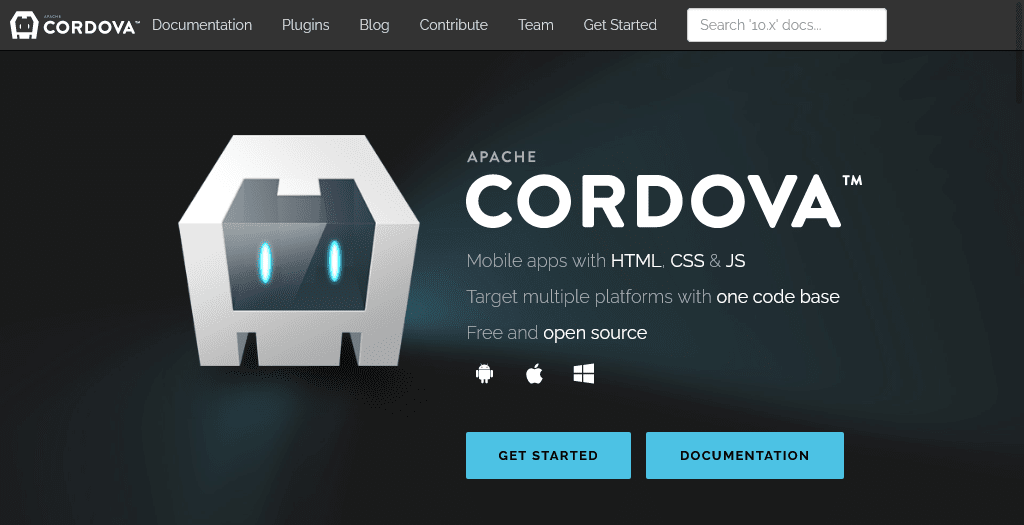 Website: https://cordova.apache.org/
Adobe Mobile Gap, Apache, and Adobe jointly own it. This mobile app framework was renamed Apache Cordova when Apache purchased it. Adobe PhoneGap creates mobile apps using HTML, CSS, and JavaScript.
The major purpose of using this framework is to decrease developer effort while developing cross-platform apps.
Key benefits of Adobe Mobile Gap
Cross-platform apps.
Platform compatibility.
Easy development process.
Benefits of cross-platform app development frameworks
Development costs
The creation of cross-platform applications is based on the concept of 'compose once, run everywhere.
Reusable code and rapid application development using tools can help to decrease development costs.
In this way, cross-platform applications are the only way to develop your business across many platforms and tools in a realistic way.
Fast development
Another mutually beneficial circumstance when developing cross-platform applications is the rapid development process.
Development efforts can be reduced by using a single source code for various platforms. It enables you to create a feature-rich business application in less time.
The team of developers is capable of meeting the required timeframes for cross-platform application development.
Easy to maintenance
Because there is only one created an application that operates across multiple platforms, it is easier to maintain up and submit code or modifications made.
Updates can be quickly synchronised across all platforms and devices, saving time and money. Furthermore, if a defect is discovered in the main codebase, it should be patched just once. Developers may save a significant amount of time and money in this manner.
Final Remark
All these platforms are best for cross-platform app development, all these frameworks provide better features depending on the project and how vast that mobile application is.
There are lots of other frameworks also available which are being used by developers like Sencha Touch Ext JS, Corona SDK, Mobile Angular UI, and so on.
How Mobile Application Development Can Boost Your Ecommerce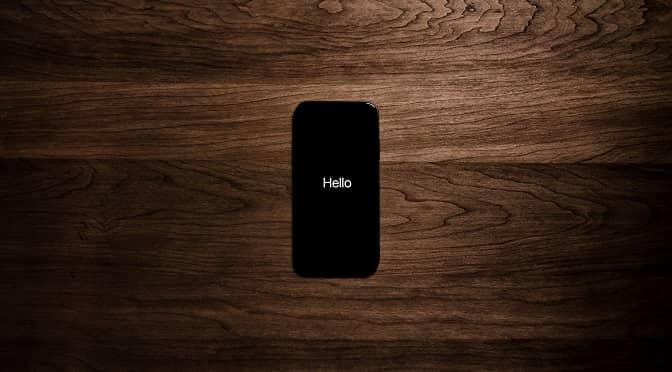 Ecommerce industries are investing in mobile application development to attract online customers. The reason is, it makes your journey easier to reach potential clients directly through the phone.
Your ecommerce store should have a reliable and seamless mobile app to earn sales cash. And this can only be possible by getting the services of ecommerce platform development.
There are a lot of challenges with the popularity of mobile applications that start-ups bring. In addition to functionality and technology, they need to address the cost of high-end mobile application development.
Understanding customer demand is key to an effective ecommerce business. In today's digital age, Building an ecommerce platform will help you to win the hearts of the customers and understand their choices. It can boost your online business exponentially.

How mobile app development can boost your ecommerce start-ups?
Customer engagement
Ecommerce mobile applications provide the best way to engage customers and attract them towards your brand. It also informs your clients about your brand's latest updates, new product launches, promotional offers, and discounts, which ultimately converts into sales.
More than 3.1 billion people are already using smartphones around the globe. So, it is a great marketplace and an opportunity for you to grab their attention to your business.
Easy to re-market
A smooth and managed navigation panel in the mobile application helps the customer to add products into the cart and place the order quickly. And at the time of re-purchase, the previously saved or ordered items along with the current offers and reviews, make their task easier.
Likewise, you can use the existing customer base to approach again for new offers.
Stay out of the crowd
Rather than a traditional way of selling products through your physical store, it's more convenient to sell them online. Moreover, even in this internet-based era, most business owners are still following the former way of selling the products.
So, why don't you approach the best ecommerce mobile app development company, which can help you to stay out of the crowd in this competitive market?
Effective marketing tool
Through mobile applications, you can ensure reaching the perfect audience followed by Google analytics tracking.
You can even integrate the app with various social media channels that allow customers to see the updates of your existing and coming offers. It can also send you important data about customer behaviour, location, demographics which help you to optimise your marketing efforts.
Improve sales and profits
An ecommerce mobile app clone can influence customers to buy products from your brand. The reason is, consumers are already familiar with similar platforms like yours. As an add-on, it will save their time as well in checkouts. You can also use push notifications that will deceive customers when they're in the vicinity of a physical store.
So, first, you should shortlist some popular ecommerce applications and ask your mobile application developer to clone them with the required manipulation.
Conversion rate
Conversion rate marketing is one of the gold metrics in the internet world. The mobile application conversion rate is much higher than the mobile browser conversion rate.
The best strategy to build your ecommerce app to boost revenue
Here is the proven strategy for building an ecommerce platform:
Define goals
It's important to know why you want this app and what your goals are, even before starting the ecommerce platform development process. You need to know about targeting your audience and the conversation rate.
Interest of your customers
You just have to be more discriminating with the help you render toward other people. Also, you need to understand what your customers are interested in and what kind of products they would like to buy and they will find the application you will create. If you know these things, you can improve your app marketing.
Choose the right technology partner
Learn the ins and outs of your business to choose the right technology partner for building an ecommerce platform. Then you need to know your list. Keep an eye on the development budget. An amazing development partner like Ibiixo can help you select the best database, structure, and CMS and back and front language for your most important code application. The custom ready to go solution with Ibiixo will be the best choice if you want to boost your business.
To minimize mental efforts, it's better to hire a professional mobile app development company. Because they keep updating their knowledge to go with market demand and trends.
Design
Give your mobile app clone an appropriate name with beautiful colour schemes and smooth transitions from one page to another for your customers. Create logo options and make the most of them. Play with the subconscious mind as your customers and use smart branding strategies to make a good impression.
Amid the process, if you are stuck anywhere, Ibiixo is here to help you with a perfect branding strategy for ecommerce platform development.
How to build an ecommerce app to outreach the competitors?
Start understanding the requirements of mobile application development with your team. A few ideas on what might be on your list:
Simple checkouts: While building an eCommerce platform, a simple checkout does two tasks. It makes purchases easier and more convenient. What it does for ecommerce, both B2C, and B2B.
Wishlists: Through wishlist, customers will be able to repurchase what they purchased before.
Payment option: Relevant payment options should be given in mobile applications so that customers can easily pay.
Review and rating: The app should have the option of review and rating because most of the customers rely on the opinion of others.
Social integration: Social channel integration is the most important thing when building an app. It will help you to keep your app at the forefront. Whether your customers are on Facebook, WhatsApp, or Instagram, your app can easily reach them.
Promotion: Once you understand, how to build an ecommerce app, You need to promote your app as well to get popularity.
You can start writing a blog, make video content, share the details about your app on social media platforms such as Facebook, Twitter, Instagram, LinkedIn, etc. Consistently, it will help you to boost your ecommerce start-up business.
Market the app: The last step in how to create an ecommerce mobile application is, marketing the app in various mobile app stores. You can ask your mobile app developer to publish it on the Google play store or the Apple store to reach the maximum number of mobile users.
What PWAs Are and How They Can Benefit Your E-Commerce Business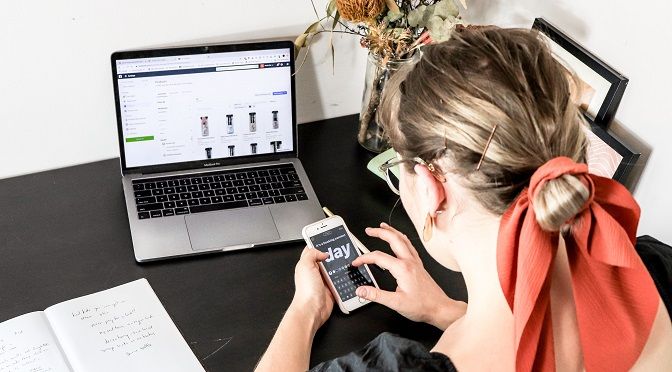 In recent years the "mobile-first" trend grew big. Cross-device accessibility has been playing a great role in e-commerce businesses. With 40% of transactions in 2019 taking place on mobile devices, consumers are increasingly relying on their smartphones to shop online. In 2021, mobile e-commerce could rake in $3.5 trillion and makeup almost 73% of e-commerce sales.
The credit for this shift towards mobile could well be given to progressive web apps (PWAs) that provide the user experience of a native app.
In this post, we will delve into what PWAs are, illustrate its benefits for e-commerce businesses, and discuss how you can implement this technology for your website.
What is a PWA?
A progressive web app (PWA) is a technology that enables businesses to build web applications that have the look and feel of native mobile apps. This means that the customer can access information anytime, anywhere without having to download a mobile app. Simply put, a progressive web app is a mobile website that is capable of functioning as an app.
PWAs can be downloaded via any browser and installed on any device regardless of the technical characteristics. In general, websites are designed for informative purposes while progressive apps are meant to simplify tasks and solve problems. As purchasing can be considered the main task and goal for e-commerce websites, PWAs can be an awesome tool to accomplish it.
Benefits of PWAs
1. Reach a wider audience
A Progressive Web App is designed to work for every user, regardless of what platform and device they use. They can also be accessed instantly by a large audience and can be easily shared through a link which obviously takes less time than downloading an app.
2. Reduced costs
A native app requires not only development costs but also costs for app maintenance. In addition, to reach the same audience you have to create both Android and iOS apps. While PWAs demands no extra budget for developers and generate better ROI value at the same time.
3. Speed
Everyone wants to get a website's content displayed with no delays and messages like 'please wait, the page is loading'. The way PWAs deal with cache helps them avoid poor website performances by saving the structure of a website's layout and reproducing it in a browser upon a user's request. That's how it saves vital seconds and makes a good pleasant impression of your website.
4. Accessibility
To access your online store, users don't have to download the app from the App Store or Play Market. It's a major benefit for users who do not always want to download apps because of additional time spent and lack of free space on mobile devices.
5. Better conversion
PWAs provide a better user experience which contributes to higher conversion rates. According to the case studies published in the TOP 30 PWAs report, for PWAs, the average conversion rate increase for mobile users was 36%.
6. Security of payments
When talking about online shopping, security is essential. With a PWA, it's easy to integrate a payment API and provide instant and secure payments.
Challenges of PWAs for e-commerce
Despite all the advantages of PWAs, they are not flawless anyway. PWAs obviously has some limitations that should be taken into account.
As PWAs refers to both apps and websites, they're a bit more challenging to design and run.
PWAs are not as popular as native applications and responsive websites, which means it may take more time to reach out to your end-users.
Unlike native apps, PWAs usually don't have access to users' data.
As PWAs are only half applications, their functionality is also limited.
When to develop a PWA for E-commerce?
As a business owner, you have to keep many factors in mind before deciding anything including implementing PWAs. Let's consider the situations when introducing progressive web apps may be a better option.
You're on a tight budget and cannot afford to build a native application.
You have a little time to market.
Your e-commerce startup is at a nascent stage.
The conversion rates on your website have decreased recently.
You'd like to deliver a better experience for mobile users.
You're planning to redesign your e-commerce store, or you've already done this.
Tools to develop a PWA for your e-commerce site
Today there are many tools to build progressive web apps regardless of the framework you've chosen. Let's look at some of them:
Vue.js
React
Angular
Angular doesn't have tools to help you with PWA development, but you can refer to the documentation or tutorials to get started.
The lesson to take away
Progressive Web Apps promise a lot in the coming future. Benefits like the ease of use, lightweight functionality, and better browsing experience deter users from seeking alternative technologies.
PWAs wouldn't guarantee a 100% success rate, nor would any solution commit to it. However, with deep analysis of your users' behaviour, traffic, and their referring sources, it will be easier for you to make a decision about introducing PWAs to your e-commerce business or not.
Android vs iOS: Which Platform Will Be Right for Your First Business App?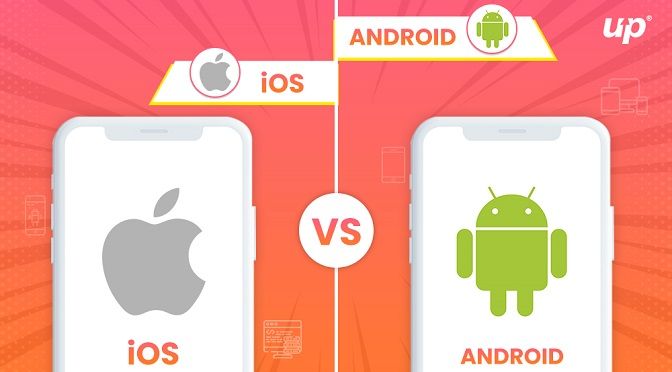 Well, choosing the right platform between Android and iOS for your first mobile app is a daunting task. In this highly competitive marketplace developing an app might be the right solution for your business problem.
Before you get started with the development process, it is crucial to decide your technical requirements. It would be best if you decided on which platform you want to develop your business app beforehand.
At present Android and iOS applications own more than 96% of the global mobile market share. Thus an ideal move toward mobile app development is to craft and launch the application for both platforms.
Though developing an app for both the platforms is quite tough for a startup business – constraints like budget, time, and resources can stop you from developing for both operating systems at once. As an alternative, you may want to launch your business app on one platform first and then set up a second one on a later date.
However, your aim may be to start your business on both platforms sooner or later, but it is dicey and costly to build an app for both iOS and Android at the same time. Even most of the mobile app developers choose to develop an app for one platform to kick start their business on one platform and launch an app for another platform later – once the initial version of the app is recognised and successful.
Before choosing a platform for your app, here we would like to show some stats and facts that help you analyse the marketplace.
According to recent reports, the number of smartphone users is estimated to cross the 5 billion by this year. Android has a massive market share of 74.13%, whereas Apple devices of iOS have 24.79% market share.
There are several things you need to keep in mind to decide whether to launch your app on Android or iOS first. There are various advantages and disadvantages of both platforms. The following points will help you make the right decision.
Let's discuss each point one by one-
1. Target Audience
At present, the differences between iOS and Android users are quite clear. To choose between these operating systems, you need to think about what end goal your app aims to attain and which operating system audience is significant to your business form. Android has the maximum global market share and gets more app downloads than the iOS operating system.
The android app store has gained about 75.7 billion first-time app installs globally in 2018. On the other hand, the Apple Store has got approximately 29.6 billion app installs in 2018. Android has more popularity in developing countries, at the same time iOS users are typically younger with higher incomes.
2. Revenue model
Your Revenue model strategy plays an essential role in determining which operating system to choose for your first app development project. Each platform has its own set of benefits that lends itself well to conflicting monetisation strategies. From a revenue point of view, it is quite clear that iOS apps make more money than Android.
Even the iOS system has fewer users and generates fewer app downloads, but still brings much more revenues. At the end of last year, it was estimated that Apple's App Store generated much more revenue than the Android app installs. Even though iOS's noteworthy lead in profits, the Google Play Store still did see a boost of 27% in consumer's every year.
3. Project completion time
It is one of the main points that you need to consider while selecting a mobile app platform. The operating system plays a massive fraction in determining what platform is best to develop for first. If you are planning to develop your business application for the android platform then it will generally take more time to release in the marketplace due to device disintegration.
Building a business app that is compatible with multiple Android devices generally takes more time, because there are thousands of android devices and that too with different specifications and screen size. On the contrary, developing an app for iOS takes less time compared to Android as there are fewer iOS devices than Android devices.
However, when it comes to approval of your app; the App Store takes a long time to approve your product with the strict system and quality expectations in place. On the contrary, Android apps get approved in just a day or two.
4. Cost
The cost of mobile app development depends on the scope and intricacy of the project; the larger the size of the app is, the more it is going to cost. If you are planning to cover a large number of devices and operating system versions, then the app development requires more time and resources, and thus need higher costs. When comparing Android and iOS app development on the basis of cost, the charges will be almost similar.
5. Making the decision
The last step is to make a decision that suits your business needs. In the end, your decision to build for iOS or Android is something that is important for your business. In case your target audience is North American then you can go with iOS first. If you're aiming for a broader, global marketplace and plan to generate revenue through advertising, then Android is the better option.
There are several things that you need to take into consideration like where your target audience lives, the features they want, the devices they use, development timeline, and financial plan to conclude whether you should build an Android or iOS app for your business.
If you need to build an ecommerce app, then choose iOS. On the other hand, if your main target audience is global or emerging markets, then especially Android is your best bet.
No matter which platform you choose, once you focus on the proper target audience for your business, then users will surely use your app. When this happens, it's a sign that it's time to build another version of your app for the other platform.
Conclusion
In nutshell, we can say that Android and iOS both present great potential for any business app. While each OS has its own set of pros and cons, both are highly special platforms when it comes to mobile app development. Thus, always select a platform that takes your company to the next level of success.
Author bio:
Anshul Sharma is the CEO of Fluper, a leading Android app development company. He is a versatile tech writer and loves writing about the latest technology trends, entrepreneurship and startups.
5 Principles of User-Friendly Mobile App Design
Use of mobile phones is continuously increasing. With the increasing demand, the need for mobile apps is growing as well. Mobile apps should be both useful and intuitive. An app should have a user-friendly design. How many times have you downloaded an app and got disappointed by its usability? Lost count, right?
The usability of a mobile app depends on some principles. These principles enhance user experience and lead the way to success for your app.
We will be discussing some of these mobile app UX principles here:
1. Decluttering
Clutter is one of the worst enemies of good design. An app shouldn't overload users with too much information.
Clutter is terrible on the desktop, but it's far worse on mobile. Anything that is not necessary should be cut off. Using too many buttons, images and texts make the app look complicated.
To avoid cluttering:
Keep the design simple with minimum elements on the interface.
Keep content minimum. Show only what the user needs to know.
Use one primary action per screen. Every screen should focus on only one real action that has value for the user. This makes it easy for the users to understand how the app works.
2. Easy navigation
Users should be able to navigate an app with ease. It is a top priority. You may add a bunch of cool and compelling features. But they won't matter if the users can't find them. If it takes too much time to discover how to use your app, there is a chance you are going to lose users. Users should be able to explore the app intuitively and complete all primary tasks without asking for an explanation.
The followings steps may be followed to make the navigation simpler:
Use standard navigation patterns. Such as the tab bar for iOS and the navigation drawer for android.
Use correct visual metaphors so that the navigation doesn't need any explanation and leads the way to the right destination.
Navigation should be kept consistent throughout the app.
The user should know the location he/she is in rather than getting lost.
Create a "back" button that works properly in each and every screen.
3. Minimize User Input
Typing on a mobile screen isn't one of the most comfortable things to do. It is slow and error-prone. If you build a mobile app that requires too many inputs from the users to operate, they will find it irksome. So, it is recommended to minimise the typing from the users. Here are some ways to do so:
Forms should be kept short. Only relevant and necessary information should be asked from the users.
Use smart features like autocomplete. Filling out problematic fields like addresses can be done by using geo-location and personalised data.
Dynamically validate field values. It is frustrating to go back and correct mistakes after submitting data. It is better to check filled values immediately after entry so that they may be corrected right way.
Customize the keyboard according to the type of query. For example, displaying a numeric keyboard while asking for a phone number is much more convenient.
4. Easily Identifiable Interface Elements
To ensure a great user experience, clear visibility of interface elements is a must. Concentrate on the colour and contrast for that. Use a consistent colour palette.
Some useful tips:
Small text should have a contrast ratio of at least 4:5:1 against the background.
Large text should have a contrast ratio of at least 3:1 against the background.
For icons and other critical elements use a contrast ratio that is easy on the eyes.
5. Tap Targets and Hand Position
Tap targets need to be of convenient size. Generally, bigger ones are easy to hit than the smaller ones, and they also reduce the possibility of tapping the wrong one instead.
Tap targets of 7-10mm can be accurately hit with a finger. The edges of the target should be clearly visible.
Hand position is a fact you cannot ignore. Usually, people rely on their thumb to do things. It is important to place menu, frequently used controls and common actions in areas where they are comfortably reached and stretching is not needed. On the other hand, negative buttons like "delete" should be placed in hard to reach areas so that they don't get pressed accidentally.
Conclusion
Mobile app UX design is actually a continuous process. The above ones are some important tips to get started with. They will provide a foundation but refinements must be made based on your app performance and user experience.