Digital Marketing Books for Beginners in 2021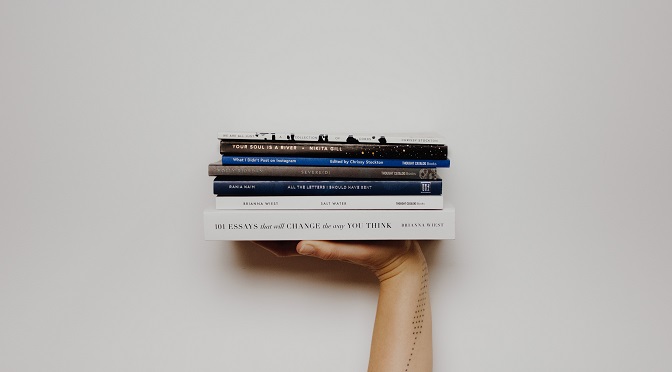 Digital Marketing is in a developing state, where no one knows what will trend. So, here we have tried to put together the list of the best 10 digital marketing books that every beginner should read. These books are users friendly, relevant and well crafted, which will boost your confidence in digital marketing.
1. Marketing 4.0: Moving from Traditional to Digital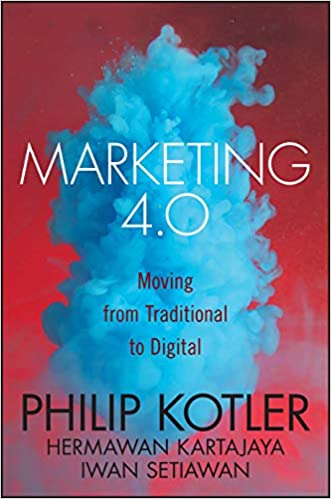 Author: Philip Kotler
About the author: Philip Kotler also known as Father of Modern Marketing, is an American marketing author, professor, and consultant. He has written more than 80 books, largely in the field of marketing. Some of his famous books are Marketing Management, Principles of Marketing, Kotler on Marketing, Marketing Insights from A to Z, Marketing 4.0, Marketing Places, Marketing of Nations and much more.
About the book: Marketing 4.0: Moving from Traditional to Digital is a much-needed book for digital marketers. This book talks about the traditional shift methods of marketing from traditional to digital. It covers the combination of online and offline marketing approach interactions between buyers and sellers.
2. Digital Marketing for Dummies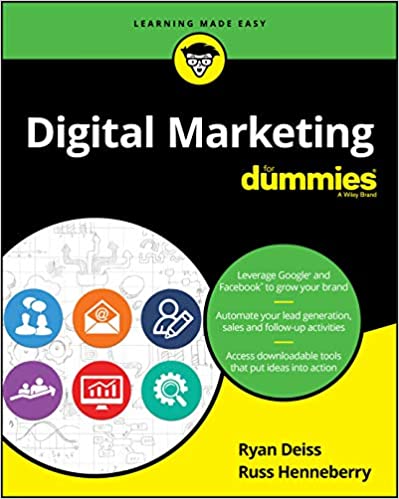 Author: Russ Henneberry and Ryan Deiss
About the author: Ryan Deiss is an entrepreneur, author, and investor. He wrote many books in the field of digital marketing. Russ Henneberry is the co-author of digital marketing for dummies. He is a digital publisher and content marketing expert.
About the book: This book is a guide to digital marketing strategies and tactics that a marketer can use to establish and increase brand engagement. This book has everything from SEO to content marketing that a digital marketer in the initial stage requires. This book also helps you design tailor-made campaigns, increase visitors and keep the audience engaged in your brand.
3. The Power of Visual Storytelling: How to Use Visuals, Videos, and Social Media to Market Your Brand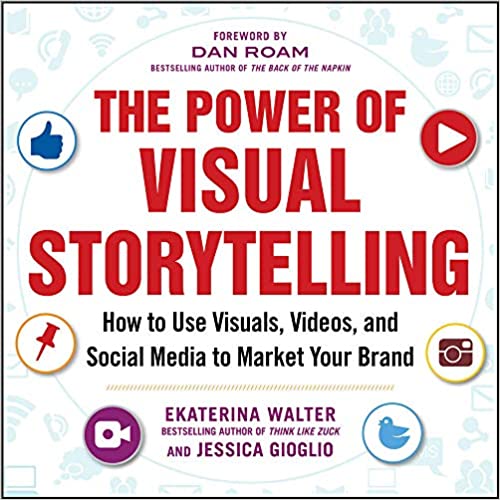 Author: Ekaterina Walter and Jessica Gioglio
About the author: Ekaterina Walter is currently is the best selling author, international speaker and globally recognized business and marketing innovator. She is the author of Think Like Zuck, The Power of Visual Storytelling and The Laws of Brand Storytelling. Jessica Gioglio is a leading digital and social media strategist and co-author of The Power of Visual Storytelling.
About the book: This book is stuffed with a lot of visuals and examples from leading organizations. The power of Visual storytelling shares various detail methods on how to expand and strengthen your brand using images, videos, infographics, presentations, and other rich media.
4. The Zen of Social Media Marketing: An Easier Way to Build Credibility, Generate Buzz, and Increase Revenue
Author: Shama Hyder
About the author: Shama Hyder is an Indian-American entrepreneur and author. Her name was highlighted in the Forbes top 30 Under 30 list in the year 2015. Apart from The Zen of Social Media Marketing, she is also the author of Momentum: How to Propel Your Marketing and Transform Your Brand in the Digital Age.
About the book: The zen of social media marketing elaborates on how social media can be a successful tool for marketing your product and services. This book outlines the strategies to expand and grow your business using social media tools without much hassle. It talks about people's mindset and how many organizations are failing to take advantage of social media. The Zen of Social media marketing highlights how to use social media tools such as Facebook, Twitter, LinkedIn, step by step.
5. The Art of Digital Marketing: The Definitive Guide to Creating Strategic, Targeted, and Measurable Online Campaigns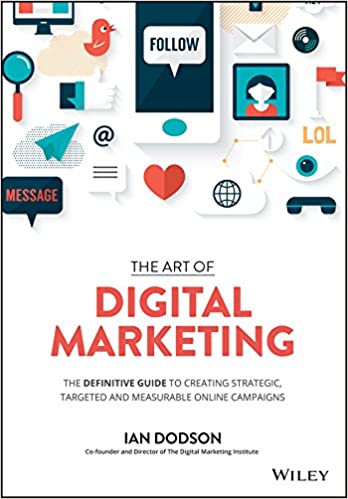 Author Name: Ian Dodson
About the author: Ian Dodson is the founder and president of the Digital Marketing Institute(DMI) and author of The Art of Digital Marketing.
About the book: The art of digital marketing has everything from A to Z that a digital marketer should know. This book highlights the Innovative procedure for a successful digital marketing campaign: starting from the users need to the directions required. This book supports the marketer in creating and strategizing effective digital market campaigns for targeted users and measuring the growth of the campaigns.
6. Understanding Digital Marketing: Marketing Strategies for Engaging the Digital Generation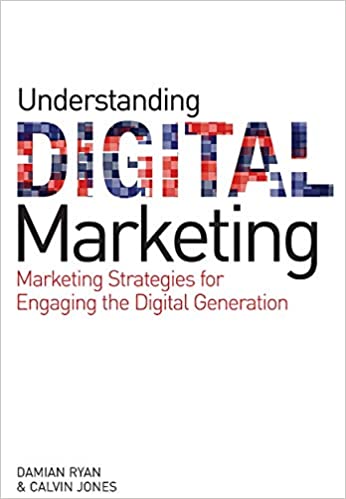 Author Name: Damian Ryan & Calvin Jones
About the author: Damien Ryan begins his career as a media innovator with around 50 magazines under him. He is one of the first individuals globally to start placing banner ads on websites back in the early 90s.
He is the author of popular books such as Understanding digital marketing, Understanding social media and many more.
About the book: Again, This book highlights the top practices and strategies for digital marketing and how to carry out comprehensive research on the new generation of digital users. It covers various crucial topics such as affiliated marketing, email marketing, social marketing, customer strategies etc with case studies.
7. Jab, Jab, Jab, Right Hook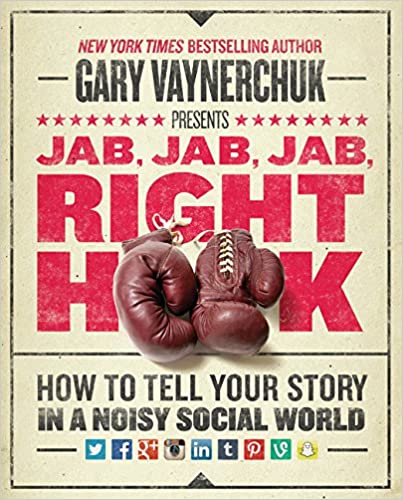 Author Name: Gary Vaynerchuk
About the author: Gary Vaynerchuk is a New York Times bestselling author and social media expert. He is a Belarusian-American entrepreneur, author, speaker, and Internet personality. He wrote many amazing books such as crushing it, the thankyou economy, Eleven and a Half etc.
About the book: Jab, Jab, Jab, Right Hook is a crucial book for anyone willing to learn social media. This book has simple, effective, communicative and relevant content with some practical case studies and approaches that can help you construct social media strategies.
8. Click Millionaires: Work Less, Live More with an Internet Business You Love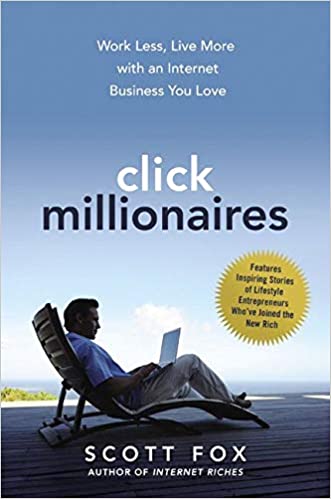 Author Name: Scott Fox
About the author: Scott Fox is an American born author, startup advisor, investor and media personality. He has completed his education at Stanford University. He is the author of many mindblowing books such as Internet Riches: The Simple Money-making Secrets of Online Millionaires, E-Riches 2.0, and Click Millionaires: Work Less, Live More with an Internet Business You Love.
About the book: This book guides you, how you can start your very own online business with or without any funds. It is a very inspiring and innovative book with some stories of people who have tried their hands on the internet and become a millionaire. It has everything from YouTube videos, blogs, affiliate marketing to even freelancing that can help you design your model. This book is written in simple language with fewer jargons.
9. Master Content Marketing: A Simple Strategy to Cure the Blank Page Blues and Attract a Profitable Audience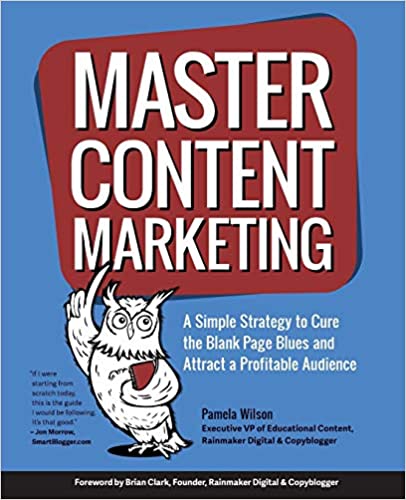 Author Name: Pamela Wilson
About the author: Pamela Wilson is in a marketing career for the past 30 years. Pamela is the owner of Big Brand System, a site that helps people combine design and marketing to create a memorable brand voice and appearance. She's one of the people behind the popular Copyblogger website, one of the most respected marketing blogs.
About the book: Master Content Marketing is an effective and great book on how you can uplift your content using the strategies mentioned in the book. It guides you to all the step on the creation of revenue-boosting content. This book is loaded with formulas, checklists or tools to use, all in a blueprint-like order that can't be screwed up. If you're new to content marketing, you'll be dog-earing every other page.
10. Digital marketing 2020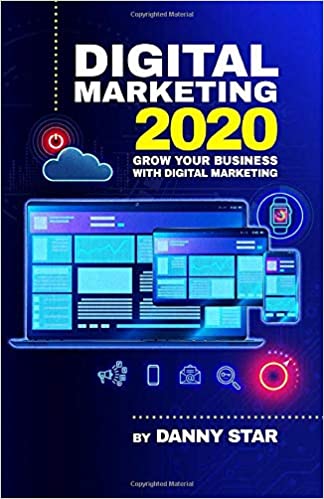 Author Name: Danny star
About the author: Danny Star is an American based marketing consultant. He completed his graduation from the University of Maribor. He is currently the CEO of the website depot.
About the book: Digital marketing 2020 covers various in-depth topics related to digital marketing. This includes social media, SEO, email marketing, social media etc. Each chapter introduces knowledge about digital marketing tools, their advantages and disadvantages and tips on when and how to use such tools.
So, these are the best digital marketing books for beginners 2021. These books will surely give you insight into digital marketing. Still, if you want to take digital marketing as a career, It's recommended to do a digital marketing course that will help you build a foundation for your digital marketing career.