10 Influencer Marketing Strategies to Skyrocket Your Brand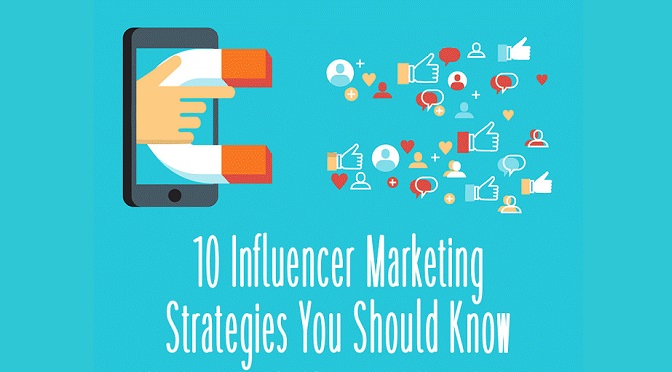 Consumers today have stopped paying attention to the traditional ways of marketing. Celebrities mouthing scripts in ads are ignored. Consumers instead opt to receive the messages from the influencers they follow on social media. They are more influenced by their opinions.
Influencer marketing has arrived in a big way. Endorsements from influencers can make a big impact. Brands and marketers know this and therefore are keen on using influencer marketing strategies to reach their goals. Let's have a look at the influencer marketing strategies you can use.
1. Provide discount codes
This strategy of influencer marketing is oriented towards driving sales. Brands provide discount codes to influencers they collaborate with. These codes are then passed on to the fans and followers of the influencers. Followers are gently nudged to make purchase and they use the codes. Brands get much-needed brand awareness and conversions.
2. Create and publish blog posts
Every brand worth its salt must invest in creating and publishing blogs. Blogs help you develop the relationship with existing and potential customers. It gives you ample space to describe your product and services. You can collaborate with other influential bloggers and enable them to talk about your products and services. Sites should also try to get backlinks to the posts they publish so that they rank in google and drive traffic.
3. Increasing brand mentions
If you want the world to know about your brand, you need to make sure the name of your brand keeps popping up routinely on the social networking sites. You need to interact more with the influencers. The more people see, discuss, comment, reference the name of your brand, the more you gain.
4. Giveaway promotions
Giveaway promotions draw big attention. You can collaborate with influencers and have weekly or monthly giveaways. Influencers can help you promote the giveaways. Your customers who sit on the fence too would love a chance to experience the product. There is a lot of engagement and brand awareness as a result of giveaway promotions.
5. Ambassador programs
When brands see merit in collaborating with an influencer for the long term they try to involve them in their ambassador programs. Influencers as ambassadors become the face of the brand and they co-create the content and publish it on social accounts. Ambassadors work on increasing traffic, launching products, creating brand awareness and more.
6. Organize events
The way you plan and promote your events can have a big impact on your brand. You can rope in influencers to promote and cover the details of the event. This will create plenty of excitement and buzz in real time. You need to plan for proper media coverage too. Having influencers at the event will get you the right attention.
7. Takeover of social accounts
This strategy involves handing over the social media accounts of your brands to influencers who have the right expertise and have big number of followers. Brands gain by having uniquely crafted quality content on their timelines. They also have the attention of the loyal followers. Influencers gain reach and use the platform to share their expertise.
8. Guest posting
You can make a list of influential bloggers and try to pitch your posts to them as a guest. The posts need to be unique and useful. Guest posts help you build your authority. They help with visibility and help increase website traffic.
9. Free products
You can reach out to influencers who are interested in reviewing your products and services for their followers. You can provide them with free products and services in return for their authentic opinions and creative content.  These influencers love to showcase and talk about useful products. You get publicity for the products and much-needed brand awareness and visibility.
10. Set up challenges for influencers
When a number of influencers compete for a prize the brand associated with it gets a huge boost in visibility. There is a lot of engagement around the challenge. Followers are interested in the fact that the influencers they love to follow are competing and they root for them. The brand gains followers, reach and visibility.
These are some of the influencer marketing strategies brands must use to see effective results. The following gifographic from Grin discusses these strategies with excellent examples. Have a look!