Top 10 Digital Marketing Tips to Help Small Businesses Grow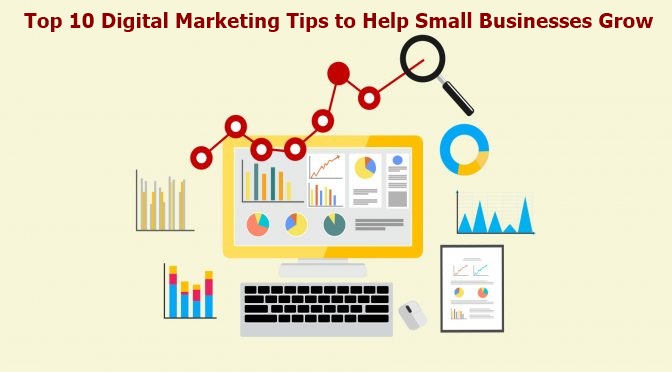 Small and Local businesses often try to maximize their growth without putting stress on their financial resources. Thus, digital marketing companies tend to skip such projects since they think that the pay-out would be negligible compared to the time, effort, and manpower dedicated for such work. However, this is a common misconception.
Unlike larger projects, which make use of every component of the internet, local business projects require a small and defined set of activities that are required to put the business on the map. An efficient Digital Marketing strategy could put even small businesses at par with the big league organisations.
Following are the top 10 digital marketing tips that can help your small business flourish:
1. Keep your website simple
The best digital marketing tip for setting up a business website is by keeping it simple. Remember, your website is the first step of the interaction of a potential client with your business. The layout of your site should reflect the mission, vision, and ethics of your trade.
Keeping a user-friendly interface will make it easier for the audience to view the relevant information and subsequently contact you. It also makes maintenance and upkeep of your website easy, especially the SEO portion. Choose a basic outline that allows you to incorporate changes into the site when you expand your business in the future.
2. Set your own brand
Lay the foundation of your brand by scouting through the web pages of your competitors. While big players may be right at the top, you have the advantage of being a local business that has an understanding of the ground realities based on which you can add value to the market.
Look for attractive call-out captions such as "Quick Response" or "No Hidden Charge" to make your business more attractive. You can start your own brand by differentiating your business on the basis of product, service, distribution, relationship, reputation, or price. Use such key factors to differentiate your brand and rope in more customers towards your organisation.
3. Invest in mobile-friendly optimisation
While this blog was being written, there were over 4 billion users accessing information through the internet. Out of this total count, nearly 61.2% internet users make use of mobile devices to browse through the internet. These statistics alone should make you realize the importance of investing in a mobile-friendly website.
Additionally, Google recently decided to boost the websites that have been optimized for smaller screens, which means that mobile optimization would actually help your business climb up the search engine rankings!
4. Your clients are your biggest assets
Your loyal clients could help you win over other potential clients! The online reviews that you receive on your goods and services are much more than just social niceties. They could help in influencing a client who is mulling over whether they want to do business with you.
Take the time out to respond to every review as it puts your customer handling capacity in good light. Give equal weight to good and bad reviews. It makes users realize that your business cares about its customers and the feedback that they have to offer. Seek reviews over popular platforms such as Google, Facebook, or Yelp to have a robust customer profile.
5. Get blog ready
As a small business, you may struggle to compete against the big guys, especially keeping in mind that they spend an inordinate amount of resources sustained through the backing of a large budget. Furthermore, this 'broad-term' strategy may also not necessarily result in the growth of your business.
Thus, another strategy to make an appearance in the highly ranked pages on Google would be by posting blog content. Writing an interesting and engaging blog may result in an increase in organic traffic for local businesses. Invest in good quality content that adds value to the reader's knowledge base. Make them feel involved and they might actually contribute to marketing your goods!
6. Make your social media handles stand out
With Social Media platforms rushing in such a massive change in the way consumers view goods and services; it would be a fatal mistake not to set up an attractive profile over various mediums. Create these official company pages to interact with your audience.
You can use it to update them on your new products or some great offers. Facebook, Twitter, Instagram are great ways to market your products. Through these, you can also promote your company blogs or other such creations. Even on platforms like LinkedIn, you can customize a link to incorporate keywords, which will help your page rank higher.
7. Make use of Twitter/Facebook/Google Ads
In continuation with the previous point, it is also important to make use of tools that will help build awareness about your brand. Advertising over social media is a great way to reach out to your followers. Promoted tweets or adverts over Twitter and Facebook can give you an edge over your competitors.
Furthermore, you also have an option to use Google Ads (previously known as Google AdWords) in tandem with the Google Keyword Planner. Through this, you can not only monitor the trends followed in the advertising sector, but also use this compiled data to create and run successful campaigns. It will also aid in forecasting keywords as per the seasonality.
8. Compile an email list
Email marketing is a double-edged sword. If you play your cards right, you might actually get a long list of loyal customers who would be awaiting your updates on any deals. The best way to begin is by sending out polite welcome messages to anybody who subscribes to your business' updates. Once they are added to your mailing list, record and maintain a robust data management system for this information.
Top digital marketing experts know that emails are the best way to generate and convert leads. It is also platform-free, which means you can use all and every social channels to reach out to your clients. Plus, there are higher click-through rates for emails as compared to organic social media posts. If you can afford the services of a professional email marketer like Mail Chimp or Constant Contact, you will get a good return on your investment.
However, it is easy to get swayed and go overboard. Thus, it is important to keep your emails short and to the point. Emails that are crisp but rich in information will have a greater number of people engaged. Spamming your clients with too many emails will result in them unsubscribing from your mailing list, which may be a loss to your business.
9. Start a referral system
Your customers can help your business grow. You can seek their help to gain reviews on your business, which will not only improve your Google Listing, but it will also help future and prospective clients make up their minds. In addition to spreading the good word, customers can also rope in more customers if you offer them a handy referral program.
E-commerce plugins such as the Referral Candy offer discounts, credit, cash, or even free products to users who refer their friends. Offer unique referral codes and dedicated links that users can share with their friends and family to promote your business. It is just a matter of including such widgets to have your business booming!
10. Form partnerships with social media influencers
Brands that work with social media influencers open new avenues to give visibility to the business. This strategy is not just limited to fashion or cosmetics, in fact, it spreads over to other industries such as those dealing with food. Thus, a food blogger with a strong online presence could be a good way to reach your target audience.
This field of marketing is still in its nascent stages but has a great scope for developing into a marketing trick. Interestingly, you can offer both, goods and services, in lieu of the influencer spreading the good word about you!
We hope that these few tips can help small businesses reach the top. Using these tricks wisely in a comprehensive marketing strategy could be a great way to boost your business. Start with setting out clear goals and the best way to achieve them. Whether you are looking to drive more organic traffic or wish to increase your social media presence, these tips will greatly help you achieve those goals so that you will get quality leads.
Do not procrastinate on floating a fitting digital marketing strategy. Just start with the groundwork and capitalize on the situation dynamically as it shifts in your favour. Just remember, the sooner you begin, the more your campaign will succeed and as a result, your business will also be growing exponentially.
Author Bio:
Tausif Shaikh is a Founder of Xplore Institute. He is Passionate about Digital Marketing, SEO, Social Media Marketing, and Blogging. He has been in Digital Marketing Since 2014. He is Busy writing Tips about Digital Marketing which actually works.