The 5 Vowel-Mantra Brands Need to Liberally Use to Build a Post-COVID Language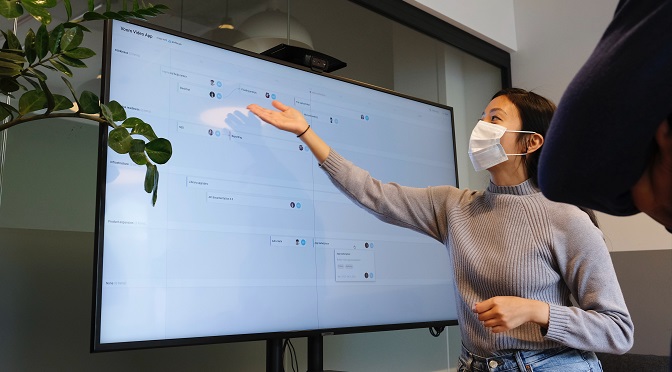 While marketers over the world are well-versed with the 4Ps of marketing – product, place, price, promotion, most of them were caught off guard with the now looming, omnipresent 5th P – 'the Pandemic.'
COVID19 has literally ensured that we take a step back and distance ourselves from the known to unlearn most of what we were certain of. There are many predictions and schools of thought rampant around us all. However, the commonality that they all share is that change is inevitable.
So, as most of us try to acclimatize ourselves on how to re-plan our product, place, price and promotion, let us first equip ourselves with what the new normal is most likely to entail.
1. A – Acceptance
Sundar Pichai – Alphabet, CEO – spoke to Time on #COVID19 and said that the pandemic is 'a test that we have to pass'.
While restrictions are being lifted the world over and governments are collaborating to facilitate ease-of-doing-business, brands need to be wary of the fact that the pandemic has left lasting impacts on the global economy – the effects of which are still unknown.
The assumption of the oblivion of the virus may lead to detrimental effects on a brand's health. Accepting that the number of fresh cases is slowly reducing, however, the effects of the outbreak are still surfacing in large numbers, is the way forward.
Once brands accept that the effects of the pandemic are here to stay, they can start restrategizing their goals, both for within and outside the organization. Recrafting product line-ups, repositioning existing products and services, focusing on understanding new consumption patterns will all be impacted by the simple acceptance of the pandemic and its effects.
Most importantly brands need to accept that marketing themselves is going to change. Traditional mediums such as outdoors are going to be questionable for a long time to come. Digital-first avenues shall be the future.
With emerging technologies and platform features, consumers' acceptance of such mediums will make it challenging and convenient for marketers the world over.
2. E – Empathy
Owing to its power of affecting anyone – irrespective of class, caste, creed, race, region – what the pandemic has effectively done is made all of us far more empathetic toward one another. Many had to swallow the humble pie to understand that money is not something that can ensure your safety. Something that the agency and the brand team of Kent RO – an Indian healthcare products company – had forgotten to account for.
The campaign communication focused on the utility of the product – a contactless bread kneader – ensuring convenience. In an attempt to tie in the severity of the situation – that of maintaining hygiene, they focussed their narrative on the lack of hygiene of domestic help. And how with the said product, that no longer needed to be a concern.
Needless to say, the brand received flak, was called out for being inappropriate and classist. The backlash resulted in many unfollowing the brand, and some even solemnly agreeing to discontinue using their products.
The efforts that should have gone towards marketing the new and innovative solution, were dedicated toward firstly releasing an official apology and then damage control.
With consumers being more sensitive than ever, brands need to be extra mindful of the repercussions of their communication and product positioning.
Empathy, the underdog for all these years, will now be the frontrunner if used right that is.
3. I – Inclusion
Diesel – a brand that has relied heavily on sex appeal and has never shied away from shocking people with its use of bold statements, released a digital film amidst the ongoing pandemic.
The movie, simply called Francesca, shows the journey of gender reassignment of an individual and how Diesel has been a constant. Released worldwide in the month of June, which is globally observed as LGBTQ Pride Month, the brand received praise. Members from the LGBTQ community that usually shunned the brand for being unabashed warmed up to it.
Inclusion a principle that has only been spoken of or brushed upon from a peripheral vision is now a ground reality.
The revival of the #BlackLivesMatter and #AllLivesMatter movement across the globe have made inclusion a must. No longer can stereotypes dictate brand stories. What was earlier seen as sensational and considered ahead of its times, is now the new normal.
Embracing inclusion and sensibly placing your brand's narrative is the way forward for impact creation.
A word of caution, being forcefully inclusive or using the matter without actually doing something about it can have severe negative repercussions. However, if the brand has an opportunity to step in and make a difference, the large and ever-growing LGBTQ community is more than welcome.
4. O – Ownership
The Black Lives Matter movement has also shown us that people are no longer ready to exercise silence. Despite the pandemic, millions of people took to the streets to make their view known. Support did not just come in from America, but the world over.
The populace across many countries risked their lives to make sure that the government and people in power heard their concerns and demands. A brand that can enable people to take ownership of the situation and join their cause will be rewarded.
Credit where credit is due, which is why nobody can deny that brands, big and small alike have not shied away from reaching out in times of such crisis. From monetary to materialistic, the world has received generous donations. However, what needs to be understood is that the effects of the pandemic are long term and therefore relief too has to match.
When employment protests broke out, what people were demanding were not stop-gap solutions, but systematic and consistent help. That can only happen if companies take ownership and respond so. Therefore, choosing the right catalyst which can be the face of your cause is where brands should converge their energies into and the heavy lifting of the dissemination of the cause for it to become a movement will automatically be taken care of by communities at large. The stickiness of the movement can again be reinforced with timely actions and not just a strong start.
Case in point, back in 2009 when Coca Cola took ownership to ensure clean water in Africa. The beverage giant promised $30 million to ensure 2 million people received clean water in Africa. It ensured the cause saw the light of day and delivered necessary measures for the next 6 years as promised. The project continues even today, with the company and its community constantly committing and achieving more.
The world and most importantly its people need such brands, now more than ever.
5. U – Unity
'Collective action is the most powerful resource we have, paying heed to these words by Sundar Pichai will have lasting impacts on a brand's legacy.
With Apple and Google collaborating in such unprecedented times to steer the world towards being safer, the man shows no tells. To follow his example is not a choice, it is one of the safest moves a brand can make.
Understanding what you can offer in the form of collaboration is the first step towards uniting your brand with another for a campaign or cause. The marketing world is not aloof to collaborations and consumers always look forward to seeing their favourite brands come together.
The Uber and Spotify collab with value-added services lead to the ultimate personalized customer experience and was a win-win for both parties involved.
There was a mammoth increase in the share of voices of both Hello Kitty and McDonald's when they introduced their limited time for only collaboration.
German auto manufacturer, BMV worked together with the French fashion house, Louis Vuitton to exemplify the common thread they share – travel.
Point is that there are many examples from both the past and present that make a case of uniting strengths. Many FMCG brands in India will vouch for this when during the lockdown they decided to reach their consumers through collaboration with Zomato and Swiggy. If it suits the purpose, pursuing a collaboration might just be the silver bullet that you were always after.
Whatever change in strategy that you may decide to put your money and faith in, remembering the above cues can help you eliminate some of the uncertainty. Most importantly, as Jonathan Midenhall said, 'amazing things will happen if you listen to the consumer'.
Author Bio:
Aditya is the founder of Digital Polo a unique design company that provides unlimited design work for a simple, affordable fee. He also heads a full-service digital agency called Nico Digital.