10 Ways to Turn Your Business into a Successful Brand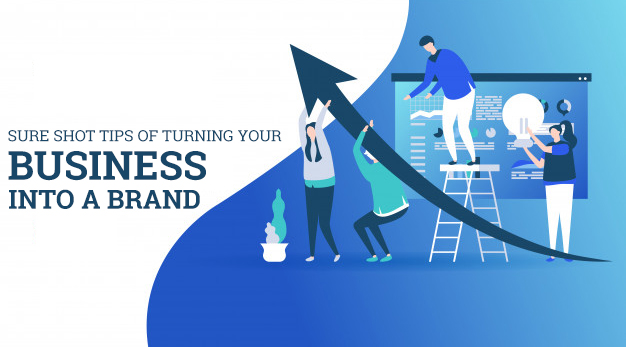 If you thought that establishing a business was the toughest part of the challenge, then you are sorely mistaken. To develop a brand of your company and carve out its own place in the crowd is actually the toughest part. In addition, considering how effective can branding be, it becomes an immense responsibility to be able to create a brand that can help your business stand out from the competition.
Branding also supports your marketing and advertising efforts. When people start recognising your company through your logos and start connecting with your company on an emotional level, your ROI shoots up dramatically.
So if you are struggling and wondering how to build a brand for your business, then I have come up with a few branding tips that can be of help. Let's delve deep into them, shall we?
1. Determine your target audience
When you laid the foundation of your company, you had goals that you wanted to achieve, right? Now before you go about achieving the set of objectives, you first need to be sure about the audience you want to target. No business can cater to all kinds of customers. Your products or services are for a particular group of people.
So your first need to understand who you are trying to reach and then tailor your mission accordingly. Once you have figured out your target audience, study the various demographics about them – their preferences, their locations – so that you can cater to their needs.
2. Establish a brand mission
Branding is all about communicating your mission to the world – why are you here and what do you want to achieve? So you need to craft a phrase that reflects what your company aims to do and what it is most passionate about. The statement should be impactful enough to highlight the value your business provides. And it is around the mission that the logo and the other messages should be built around.
For instance, consider the brand building technique that Nike adopted. Based on their mission (which is "If you have a body, you are an athlete"), they have crafted the famous tagline "Just Do it"! See the magnanimity of the mission – how wide do they make their base of the target audience with that one simple line!
3. Check your closest competitors
The key is not to copy but to take inspiration. Moreover, you must keep a close eye on what your contenders are doing so that you can differentiate from them. The step to successful branding is to be able to stand out from a crowd. So conduct thorough research on the most successful brands and their branding stories.
Study the techniques that they have adopted in their way of building a brand name and see what has worked and what hasn't so you know what to practice and what to steer clear of. Observe how the competitor has communicated the messages across channels and take a cue from it.
4. Highlight the key qualities of your brand
However effective may the branding and marketing techniques that you adopt be, every effort can go down the drain if your products and services are not up to the mark. True that customers get attracted by the logos and smart taglines, but the only reason that ultimately makes them purchase a product/service is the value of a product.
So you need to delve deeper into the market to find out a unique product or service that no one else offers. And you need to focus on the qualities and benefits of what have in offer for your audience to make your company's branding unique.
5. The brand logo & tagline should connect with the audience
When we talk about branding, the first essentials that come to our minds is the logo and the slogan. Now, this may not be as easy as it sounds! The logo is like the flag bearer of your company, and that's the one visual that is going to create the first impression on your audience.
So your approach towards crafting a logo for your company brand should be holistic in nature. The objective of your company should come out evidently in your logo.
For example, take the ubiquitous logistics brand FedEx. When you see their logo closely, you will understand that there is a highlighted arrow in between the E and the X depicting their mission that is to move forward as well as telling what the company deals in–logistics.
Another great example would be Amazon. In the logo, you'll see how an arrow connects the A and the Z referring to the phrase that they can cater to all your needs, from A to Z. So your logo does not need to be too artistic or intelligent. It should be smart to tell a story and easy enough to be understood.
6. Develop a voice for your brand
"Having a voice to communicate with your customers is essential for business branding. Your customers should be able to recognise and connect with your brand just by the voice you develop", says Emily Anderson, advertising head for online essay writer. The tone should be professional and friendly at the same time. It should be authoritative and conversational too.
This is especially important when you publish blogs and articles on your website. Maintaining a voice consistently will help your brand image become recognised on multiple channels in the same way. They will identify the voice with your brand only! Take a lesson from Buzzfeed, who has made listicles a trend! Now when we talk about listicles, the first name that comes to our minds is BuzzFeed.
7. Be your brand's biggest advocate
No one knows your brand better than you and your employees, and therefore you all will make the best advocates for your brand. You and your employees can market your brand like no one else can because you are aware of its missions, goals and objectives. So tell your employees to share your posts and publishing on their social media accounts.
Encourage them to establish a personal brand aligned with your company branding to help you build more reach. Even while hiring the workforce for your company, make sure that you choose employees who believe in the mission, vision, and the values of your brand.
And for your loyal customers, encourage them to share how they feel about your company and post testimonials on social media. Request them to share your content if they find it interesting.
Brand building can bring about a miraculous change in the way your new or existing business is performing. A robust brand building process can transform your business from a small player into a successful competitor. With a successful brand, your customers will be able to trust your company more and will be willing to invest in you.
With the above tips, I am sure that you will be able to create a brand for your company that is going to stay with your customers forever. All the best for the endeavour! Hope to see your brand conquering new miles to reach the zenith soon.
And if you have any other tricks up your sleeve, then feel free to share them with us!
Author Bio:
Kefaya Hassan is a school teacher by profession, but she is also part online essay editor at Allessaywriter.com, Kefaya has a PhD in Sociology and loves to spend time with her pet.