Tips to Boost Your Business With Online Marketing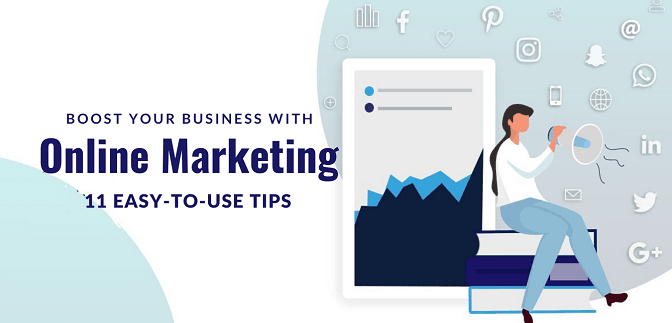 The good old days of storefront advertising are gone. Nowadays, it's not enough to hang signboards, expect people to know about you or your business. Most of the people live in a perception, having a traditional business means, they don't have to make their presence online.
With this view, their customers' reach gets limited, and they have to create more strategies to win back the lost customers.
It's a common thing to say, people would pass by your store and will not stop until they see some special attractive discounts. But, what if they don't check your offer?
Word of mouth referrals is the best way for people to know about your offers and discounts. But nowadays most of the people go online to check out the latest offers and discounts, brands, are offering. People look for proof of the value and reliability of your business offers before they invest money or time.
When you can't wait, to have clients come to you. Go where the customers are going to attract attention and build your following.
Let's know how to market your business online?
Here are some of the easy to follow ways that help in generating high traffic and revenue over time.
Create a website and share content regularly
One of the best ways to promote your business online is by launching a new site and building a website page where it is possible to share top-of-the-line content that adds exceedingly huge value on a daily basis. It's a long-run strategy, as good things don't refund overnight, but all the business owners should try using this strategy.
Developing a remarkable website in your niche or any industry not only helps to bring high traffic by piquing Google's interest but also creates authority. If your brand gains the desired value with the industry, you can easily seek good attention from the customers. Along with it, you can develop desired authority, and also gain a huge amount of sales and visibility.
Use virtually-targeted landing pages and ads
Social Media, especially Facebook and search ads, provides great potential for reaching a large number of audiences in no time. Considering you are well acquainted with your customer, check out the age, customer interests, location, etc. By knowing their interests, it helps to easily push those customers to the perfect and related landing pages. You can get help from an experienced marketer or B2B PPC agency to setup a profitable ad campaign.
Analyze using ad intelligence tools to check which ad copies are trending in your niche and what the best answers for drop shot customers into your sales funnel. Though you need to put in some effort initially, if your campaign is profitable, then it's a win-win moment for all!
Mark up your presence with YouTube tutorials
YouTube works as a great tool to promote your business online. While in the beginning, few things may trouble you, but after having a keen focus on creating useful videos, you will eventually reach a larger group of audience within a short time. YouTube is an all-in-one platform for tutorials, as one can teach, learn, and influence people to buy your products or take services.
But, if you are new to the social media industry and don't know how to use YouTube for marketing. Then it's advised to use a good social media management software, like Socinator, TweetDeck, that helps to provide reports and statistics from time to time for the activities performed with your accounts.
Email marketing helps to develop a healthy relationship
One thing which entrepreneurs should get engaged in is Email Marketing. But to gain good outcomes through email marketing, plan your budget as without knowing the profitable campaigns, it's just another way of wasting your money.
If you are searching to get emails and looking to build a healthy relationship with your customers, then take time, analyze, and track competitors' best promotional and marketing emails and revise your's that are not profitable and do not scale well. There are various analytics tools like Mailgaze, Mailchimp, that create a custom list of websites to monitor.
Mark your presence on consumer trust platforms
Trust is a vital factor that holds back entrepreneurs and business owners from succeeding. As people fear to trust companies about whom they don't have direct knowledge, or with whom they have not got associated with. In those cases, sites like SaasTrac, G2, etc. assist best.
These sites are some of the renowned online review sites in the world and have the leverage to help develop confidence with potential consumers.
Offer free products or services to the company
As per different surveys, people usually get attracted to the things that are available for free of charge rather than paying a nominal price for a new product. So, why not offer your customers a free product or service? You can give a free 10-minutes consultation or a basic service you wish to give away.
Anything you offer, make sure to save the contact details of the customer so that you can contact them easily. If you are providing any service or basic level product, you will get an opportunity to upsell those customers and convert them into paid ones.
Share important company news and events
News releases won't get you media attention right away. Various PR managers use resources like Support a Reporter, or high Domain authority sites like PR Internet, PressreleasePoint, etc. Though you certainly won't get instant news attention by sending out a press release.
However, a press release that has a healthy link profile and is well-written can assist you marginally with SEO. It also gives good exposure to your company to share their services and products to the people.
Share pictures, videos, along with relevant hashtags across social media
There are various high DR sites, where you can share your pictures, videos, that helps to build your brand value. Facebook, Instagram, Twitter are some of the platforms which are loved by all. Use specific hashtags and explanations to better categorize what you are posting about, and follow other people with those hashtags in your industry or niche.
It's not any special marketing technique that will boost your sales, or you would gain instant traffic. It will take time. Yet as long as you add value and are enthusiastic about what you're doing, you're going to rule the market in upcoming months and years. But always like, comment, engage, with other people's posts as much as possible in order to get yourself out there in the beginning.
Create a branded email signature
One of the best ways to advertise your company online is with the use of a marked email signature. Put up the links and other potential accolades that your organization received into your signature account. It helps the people you're in daily contact with to passively promote your business.
Within your email signature, you can also add up links to your social profiles, along with other related links to the pieces of company marketing like articles, digital news, or brochures about your product. Often drop a brief catchphrase or one-sentence tagline about your company and its purpose.
Market your content on Quora & Medium
If you are starting a new domain, and looking to build authority with a good amount of traffic, the best way is to share the content on different marketing platforms like Quora and Medium. Draft a good quality content on your site, try to create a keyword focused, unique, and interesting article. Also, try to work on topics that are trending and help people in some way or another.
After this, write another keyword focused, unique, and interesting article on one of the marketing sites like Quora or Medium. Hyperlink one keyword to the main blog site. It is called content marketing. It's one of the best ways to get traffic to your site.
Feature case studies from your industry
Customers easily trust businesses that have helped people they know. Are you sharing your testimonials and case studies of your biggest clients?
A great way to build loyalty with local customers is by sharing your success stories.
If you're dealing with companies or customers, you can spotlight people in your field who are well connected. Check which clients have a large presence on social media, and ask them to share the case study with their own network.
Start collecting subscribers
It's challenging to keep your customers engaged when you keep covering the same group. Leverage the advantages of your marketing activities by creating a way to catch leads. Add a prompt to your website requesting that visitors sign up for your blog or accept notifications. Otherwise, you will not have a consistent means to build relationships with interested individuals.
A newsletter or quick peek notification is useful to demonstrate your ideas to those who are not sure if they want to associate with you or not. It also helps customers to learn from you and stay invested in your business.
Conclusion
It will take time to create and execute a solid online marketing plan, but doing so can help you win more customers and keep getting the existing ones back. Figure out what digital platforms could work best for you before you create yours, then direct your efforts toward your target audience in those venues. Once you found your niche, try out the above-mentioned strategies and leverage it to promote your business online.