Business
How to Choose a Web Development Company
The vast amount of website design and web development offices around the globe makes it difficult for the amateur business visionary or those with limited technical knowledge to differentiate the good and the bad.
The essential element to online success is knowing how to find the right organisation, among the thousands, that has the internal ability to employ the explicit requirements of your business and more crucially, give the business an exceptional online identity through the website and online marketing.
The majority of customers are left in the dark about where to begin, what to begin, what they ought to have, or what they ought not to have, and the amount of cost the entire process is expected to be. Finding a service provider who will study your business, set clear goals and develop a successful website focusing on your customers is hard. Don't worry. You will find the right web development agency if you follow the steps discuss here.
Let's begin.
Find a developer that can explain to you the entire process
Your digital agency should know and be able to explain, with a suitable and practical structure and approach, the entire process to customers in a fairly basic and straight-forward manner. This will often be a good indicator to the customer they are choosing the correct web design company.
This article will detail some essential things that a website ought to have the capacity to project to customers, to grow the business and strengthen themselves and the brand with a web development plan that is detailed and based on the provider's experience.
Knowing the industry plays a critically important role towards the success and relationship between your business and your digital agency.
Build a plan with your web design company
Brand methodology and market positioning need to be decided before a website is assigned to a web developer. First, it is essential to consider whether the business is already a top of the line brand, mid-level, or new startup and does the company wish to peruse an angle of marketing specific products and services or shift some focus more towards branding of the business name.
Once this has been done, the business needs to figure out what it brings to the table or rather, how its products and services are to be offered. This is vital towards the digital agency being able to determine the substance of each web-page on the website, along with allowing the developer the ability to envision the best method to target these pages from an SEO point of view, before the work has even begun.
Implementing the perfect content for each product or service, located at the correct locations within the website design, will assist to achieve a superior customer experience and also search engine ranking from very early on, which will lower the cost of ongoing monthly SEO contracts.
Determine the best method of controlling your website's content
In terms of usability, the graphic design factor kicks in, usually the design is best left to a web designer/developer who will first design a professional looking site and then either static code the website (no ability for the customer to change the content themselves, but far less code required and usually best for SEO).
Or you may prefer the use of a Content Management System (CMS), where essential elements of the website are able to be controlled by people outside the digital agency (usually based upon simple 'WordPress' software).
Fairly recently the additional option has become available for a completely customer controlled GUI for the design and content of the website (WordPress plus a Visual Drag & Drop Builder implemented).
Recent research has shown however that the use of a Visual Drag & Drop Builder is not yet an ideal choice for SEO, and increases the amount of money needed to be spent in ongoing SEO costs.
Hence, for the time being, meeting in the middle and using a general WordPress controlled website for basic content control is advised.
Ensure the company can produce websites which are engaging to viewers
Concerning how the website looks to customers, a large number of companies tracking online behaviour show that show that a poor graphic design on your website makes the site visitors typically leave in around 7 seconds or less. This is why the visual factor and focus on 'User Friendliness' is a crucial phase of development, followed by the 'attractiveness' of the web-page regarding the content as well as its value to viewers.
Without an attractive modern website, user-friendly layout, and graphics that are immediately recognisable to the goods and services being offered, many users will 'bounce' back to google and find another website offering similar products and services.
Find a company with all the skills required in-house
The basic thing to understand is that there are many initial essential subject matters that need to be planned out to build a good and practical top-notch website. Primarily these are based around 3 elements, Strategy, Design, and Development.
The majority of developers usually turn out to be extremely skilful in one or two of these areas, which can leave a hole if they cannot complete all of the areas required.
If the company wishes to refer you to third parties for certain services, you should try speaking with other companies who can offer everything all through one agency before taking on this method.
Changing digital agencies or web design companies later can be a complicated process, it's often best to choose once and choose wisely.
Experience is the key to a great web development company
Most web development companies who have been around for ten years or more should already have all the required skills to perform all these tasks, that is design, development, search engine optimisation and online marketing, along with social media services included.
While few developers are experts in all these areas, they do exist and discovering them is where you should begin before starting.
Many long-term developers step up with regards to having expertise in all areas, and can both in-house and via outsourcing (while performing quality control themselves), provide completely competent service.
You want a company who has all these skills themselves. Even if they choose to outsource, otherwise, quality control can be difficult to determine.
Conclusion
In the end, the main thing to take note of is understanding the basic requirements a website needs to be successful, and spend time to discover developers that can cater to all these requirements, either in-house or those that outsource a portion of their work.
One Agent Multiple Tickets? A Guide to Resolving Multiple Tickets at Once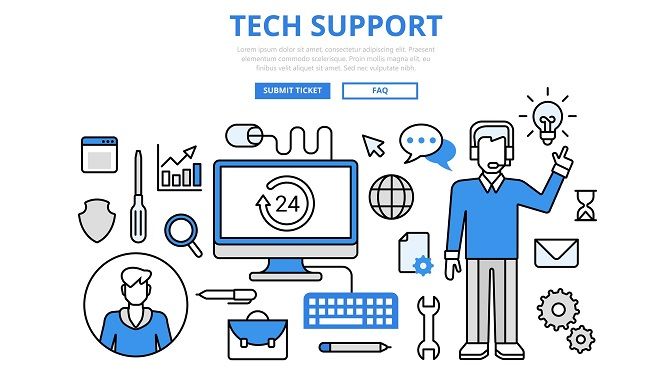 If you find yourself trying to fight through a mound of support tickets – a great way to bring a level of automation to customer support is through a ticket management system. A ticket management system helps you turn your existing support team into a query management force by automating ticket allocation.
An important metric to keep in mind is something called the 'Average Call Handle Time". The average call handle time is the amount of time it takes for you to solve a customer's query or problem from start to finish.
From the time you receive a query through your email, chat system or telephony integration – to the time you complete the first contact – is the 'Average Call Handle Time"
There are a few specific tools that you can integrate into your existing support hierarchy that will help you handle multiple tickets at once. These tools are all integrated into a ticket management CRM. Here are a few features of the CRM that you can use to reduce your average call handle time by close to 50%.
1. Use the automated chatbot to soar through multiple tickets one at a time
Each time a customer poses a query or requests your support through a chat system on your website– a ticket is created and is auto-assigned to the nearest available agent who will then respond to this customer query through the chat system itself.
You can then get one agent to handle multiple tickets by using the chat systems preexisting templates that you can customize. These templates act as an intelligence-gathering tool – that helps your agent sort out the ticket faster through AI driven research using a Knowledge Management system (explained below).
2. Shave off valuable minutes of each support interaction with a knowledge management system
A great way to shave minutes off your average call handle time – is to use something called a Knowledge Management System. A Knowledge Management system (KMS) is basically a series of FAQ'S and How to articles stored in your CRM Dashboard that gives your agents access to commonly asked questions.
So when an agent is handling multiple calls for example – he could quickly type in the customer query into the KMS search bar and effectively sort out the ticket immediately without having to put the caller on hold to gather more information.
3. Use the power of telephony integration to quickly solve customer queries
When your agents are handling multiple calls – it becomes tedious and expensive to have multiple phone lines for each agent. In such a case a Telephony Integration in your CRM dashboard can help your agents receive calls from their systems itself – helping them finish tickets faster by handling multiple calls at once or receiving back to back phone calls.
This process helps your team solve issues faster and will help them dramatically reduce their average call handle times. Solve multiple tickets at once by using the ticket management CRM.
The best mindset to have in a business is one that turns your liabilities effectively into assets. When it comes to handling multiple tickets with a small customer support team – the ticket management CRM helps you bring a level of professionalism and order to your customer service.