Online Reviews – Great for Local SEO, Conversions, and Revenue
If there's one thing that all business owners can agree on, it's that word of mouth is important to their livelihoods. It might be more impactful for some businesses than others, especially local ones, but one thing is for sure.
When someone you trust warns you against a business or recommends a product or service, you take that recommendation seriously. In fact, a massive 90% of people are more likely to trust and buy from a brand that's recommended by a friend.
So what does this all have to do with reviews? In the modern digital landscape, online reviews are the new word of mouth. Studies show that up to 88% of customers treat online reviews in the same way they do personal recommendations. And that's without even mentioning the visibility boost that reviews can provide as part of local search engine optimisation.
Said simply, online reviews are even better than word of mouth because they're something you have more control over. You can cultivate genuine online reviews and use them to enhance your SEO, your conversions, and ultimately, your revenue.
Let's take a closer look at the importance of reviews in these contexts:
Why online reviews are great for local SEO
For those who don't know, Local SEO is about specifically capturing local traffic through search engines. Its ultimate aim is to end up in the Local Pack – the set of three business listings displayed above organic search results in local searches.
When it comes to Local SEO, research by Moz perfectly demonstrates how important reviews are. The Moz team outlines eight different ranking factors websites should consider in order to rank highly in Google's local pack and local organic search results.
In order of importance, these are the factors to consider for ranking in the local pack:
Google My Business (25.12%)
Linking (16.53%)
Reviews (15.44%)
On-page signals (13.82%)
Citations (10.82%)
Behavioural signals (9.56%)
Personalisation (5.88%)
Social signals (2.82%)
As you can see, reviews are the third most important ranking factor. For standard local organic results – which appear below the Local Pack – Moz ranks reviews as the seventh most important. But in any case, they play a huge role in local SEO success. A proper strategy to get more reviews should be created by you and the SEO company you are working with.
But this just scratches the surface of the importance of reviews for SEO.
Here are some other ways reviews boost your SEO:
They provide fresh and relevant content and keywords for your business.
They go hand-in-hand with citations, another local ranking factor. Many websites where you can create a business listing, or citation, also allow users to leave reviews (e.g. Yellow Pages).
They can increase click-through rates when you optimise your web pages for review rich snippets.
Research suggests that people who interact with user-generated content (including reviews) spend more time on a page, which is great for SEO.
How online reviews improve conversion
When we talk about online reviews, there are a few different subsets to consider. There are reviews that you display on your website, reviews that appear on your Google My Business, and reviews that appear on other external websites (e.g. Yellow Pages, ProductReview.com.au).
For Local SEO, the most important place to generate reviews is your Google My Business. When it comes to converting interested viewers into paying customers, you can leverage a range of different types of reviews.
You can use reviews on your website as a form of social proof. This essentially comforts users into making a purchase and can be especially effective on product pages. According to studies, consumers are 63% more likely to buy from a site with user reviews. Furthermore, having just five reviews on a product – compared to none – makes a user 270% more likely to convert into a sale. So you must consider adding a product reviews section in your ecommerce website development process.
Reviews external to your website are also important in creating a conversion. This is because users will search for other positive reviews before confirming their purchase. Overall, 93% of users say that reviews influence their purchasing decision, so having reviews on your website, your Google My Business, and other review pages are key to conversion.
The vast majority of consumers will also read a business's response to reviews, so be sure to respond to all customer reviews and do it with a constructive, respectful mindset.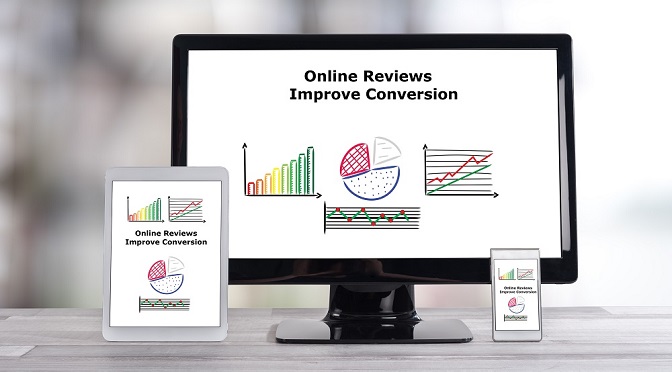 How online reviews impact revenue
Revenue is the end reward for your SEO and conversion optimisation efforts. If you can get customers to find you through reviews, and you can convince them to make a purchase using these reviews, then these reviews have had a net benefit when it comes to revenue.
But let's look at that just a little bit deeper.
SEO is the process of optimising for organic search traffic, both local and otherwise. Not only is 51% of all web traffic the result of organic search, but 40% of online revenue is also the result of organic search traffic.
As well as this, research by Google shows that 4 in 5 consumers find local businesses using a search engine.
If your web presence has been optimised using SEO and Local SEO techniques, including reviews, you can appear at the top of search results and make the most of all that traffic and revenue.
When it comes to conversion, research by BrightLocal shows that people who find external reviews not only visit your website (32%) but visit your business in person (16%) or give you a call (11%). These are all opportunities to secure new customers and grow your bottom line.
Start building your online reviews today.
The best way to generate reviews is to ask satisfied customers to leave some feedback. You can do this in person, via email, in an SMS, and more.
If you want customers to leave a review on a specific site, you can simply request they do that. Alternatively, you can send them specific links in your email/SMS to make things easier. For example, the Supple Reviews Tool can generate a direct link to your business's Google Review page, making it easy to direct users there.
Some places to display reviews on your website include on a homepage carousel, on your about page, and below relevant products and services.
Of course, reviews are only part of the picture. For optimal success, make sure you utilise customer reviews as part of broader Local SEO and conversion strategies.
Author Bio:
Mukesh Prajapati – A Digital Marketer and marketing strategist who works with Supple, a top Digital marketing and website designing agency in Australia. Apart from this, he loves to write blogs on web design, SEO & internet marketing.