How to Generate B2B Leads for Your Small Business in a Smarter Way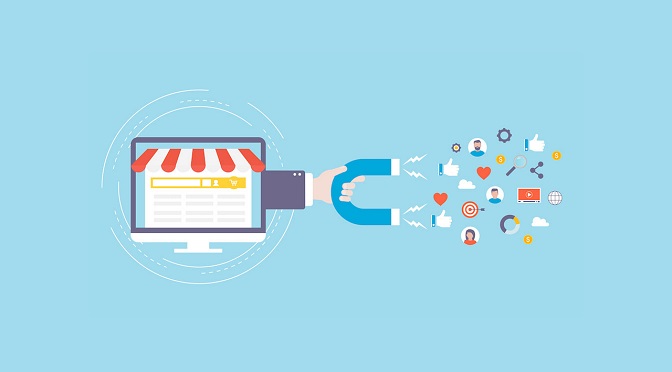 Every single business aspires to achieve a steady flow of clients. However, not everyone knows how to go about it.
Given the long list of hacks and growth strategies for small businesses, it's easy to get lost in the woods.
It's only evident how one witness an average product churning out great revenue, while a genuinely good one struggles to make an impact.
When it comes to securing B2B leads for a small business, the story takes a flippant turn.
Industry reports indicate how only 50% of startup businesses make it past the first five years. Damn right survival is a dirty game, and without a steady flow of leads, you are destined to crash.
Simply put, Leads = Earning.
In this post, we mull 5 surefire ways that will usher in maximum B2B leads (read, your ideal customers) for small businesses.
Inbound Marketing
This is one of a few B2B marketing strategies that work on a reverse methodology. In other words, it pulls prospects towards your business rather than you running after them.
Market research indicates how inbound marketing gains a command being at least 10x more functional than any other approach, for steady lead conversion.
For instance, any potential customer who Googles for "best LinkedIn Automation tool", and your website pops up among the top search results, you stand a chance of being seen. So, in this typical example of inbound marketing, the prospective customer/client is coming to your site, rather than you having to email or cold call them.
Popular inbound marketing instances include:
Informational content and well-designed graphics for social media posts.
Relevant YouTube videos.
Webinars.
Content marketing across more than one channel/ platform.
At the very core of all inbound marketing strategies lies great content. Content that is not only informational but also drives a call for action.
Start by knowing your target audience. For a small business, it is of utmost importance that you have a comprehensive view of the target audience before you interact as a brand. Besides content, your SEO approach has a major role to play.
LinkedIn Marketing
You know how they label social media platforms, like Facebook for friends, Twitter for political debates, Instagram for celebrities, and Snapchat for teenage fun.
Well, LinkedIn is one such platform that people relate instantly with work.
That's right! LinkedIn means serious business. Seldom do you find an individual who has joined LinkedIn just for the fun of it?
LinkedIn is one such platform, when used wisely, can up your B2B lead generation game, better than anything in comparison. Not only can you connect with like-minded professionals and hunt your next big job, but can also exchange ideas, strike up mutually befitting deals, and even start a new partnership.
Exclusive case studies of LinkedIn depict how this one single platform drives the biggest share of the revenue for just about any small-sized business.
LinkedIn automation tools like Lead Connect are a great way to reach out to prospective B2B leads, engage them, and effectively follow up towards a successful closure. Automation has helped several brands to grow at a progressive speed and with the right support by your side, one can always be assured of effective B2B lead generation for their small-sized business.
Freebies still do the trick
An industry survey report suggests how more than sixty percent of consumers prefer testing a free sample before purchase.
Essentially, a rip off dating back to traditional email lead generation, freebies have managed to retain its classic charm. While many small and mid-sized businesses are already into it, not everyone does it right.
Well, you can't blame the brands all the way. The notion around "Free" stuff has witnessed a lot to finally lose its meaning in translation. Regrettably, the free stuff offered these days by the majority of brands is practically useless.
Hence, one must be careful while promising free stuff to prospective audiences. For instance, if you design and sell premium business templates, make sure they are functional and worth downloading.
Doing so will help you embark on a B2B lead generation methodology, where customers will eventually sign up as they realize how laborious it can be to set themes, shift objects, and manually edit styles for a document.
In other words, it is the power of your lead generation strategy that helps communicate and establish the value of your product/services, offering people a reason to pay.
Guest Posting
For any B2B small business owner, guest posting or guest blogging should never be an afterthought. With blogging, the thumb rule is consistency.
Once you set a routine for your blogs to go live, you are already setting out expectations for your customers looking to hear from your brand. As you focus on delivering high-quality content, you will always have a better chance to pull leads to your side.
Guest posting on high DA sites builds trust and credibility for your band. Thus, when one gets redirected to your site, you can use a B2B lead generation tool to identify the source and convert them into worthy leads. In the process, you not only widen your brand reach but also discover more traffic and enhance your domain authority to boost the chances of a sale.
Re-engaging leads
The key to successful lead conversion is interaction.
That's right! It takes less than 24 hours for a lead to turn cold. Blasting emails is never going to change the scenario. Hence, it is more than important that you make the most out of your interactions.
No matter what product/service you sell, if you have a lead using your product for some time and then going kaput, it's probably a good thing to lure him back to the game.
Take a cue from Grammarly. They ran an awesome re-engagement email campaign targeting users who used the tool in the past for a brief period and never returned. The company not only pointed out how they wanted them back but also gamified their interaction efforts by awarding a makeshift badge.
For Ecommerce brands, industry reports indicate how re-engagement emails have an opening rate of no less than 12 percent. (which is great, compared to the overall email opening rate of 14 percent). With more than 25 percent of marketers losing potential leads from their email list each year, re-engagement emails are a great B2B lead generation tool.
Besides enhancing incremental engagement, it also promotes lower churn rates, thus re-establishing brand value among inactive subscribers and widening the net for conversion.
Wrap up
Besides LinkedIn automation, free downloads, and guest posts, you can also harness the power of forums, answer questions on Quora, interview influencers, run a quiz, and a lot more.
You see, optimizing your B2B marketing strategies doesn't have to be difficult. All you need to know is to make the right call at the right time.
Also, it's a good thing to have multiple options at work. Such an approach will significantly bring down the bounce rate, augment your brand presence, and increase chances of lead conversion.
Author Bio:
I am Richard Mullins, a professional content writer, a blogger who always willing to write on technology, marketing, marketing strategies, lead generation strategies, and more,. I love to write some awesome blog posts that will create values for the reader.